August 2015 Weather and Its Impacts on Missouri
Pat Guinan
State Climatologist
Commercial Agriculture/University of Missouri Extension
Missouri temperatures were seasonable during the first half of August but trended much cooler during the latter half of the month, Figure 1. The overall statewide average temperature for the month was 73.6°F, which is 2.5 degrees below normal and the coolest August since 2009, Figure 2. August was the third cooler than normal month for the year and the coolest summer month, Figure 3. Missourians also experienced their third consecutive cool summer, Figure 4.
Several locations around the state established new daily record minimum temperatures during the cool August period. St. Joseph, MO broke a record on the 24th of the month when the mercury dipped to 46°F, and the Vichy-Rolla Airport reported 4 daily low temperature records on the 19th (54°F), 24th (49°F), 25th (49°F) and 26th (50°F).
August rainfall was variable across the Show Me state, ranging from mostly below normal over the northern half of the state and near to above normal over southern sections. Preliminary data indicate an average statewide total of 3.83 inches, or 0.13" above the long-term average. The near average total ended the statewide trend of exceptionally wet conditions in May, June and July, Figure 5. It was a unique growing season with unusually wet conditions persisting from May to July, followed by a very cool period during the latter half of August.
August rainfall totals of 1-3 inches were common across the northern half of the state, but some parts of northwestern and north central Missouri, roughly from Nodaway to Putnam counties, reported 3-5 inches. Smaller pockets of dryness (< 1.00 inch) were confined to a few central Missouri counties. Heaviest monthly rainfall totals, ranging from 3-7 inches, were common across the southern half of the state. Some of the highest and lowest reports are listed in Table 1. Even though small pockets of dryness were beginning to emerge across a few central Missouri locations, the Drought Monitor map indicated no abnormally dry conditions impacting Missouri as of September 1, 2015, Figure 6.
The exceptional wet conditions in June and July set the stage for possibly one of the wettest summers on record for the Show Me state. The preliminary August total, combined with June and July, amounts to a statewide summer precipitation total of 18.74 inches, and ranks as the 5th wettest summer on record, and the wettest summer since 1993, Table 2.
It's also significant to note the May through August 2015 average precipitation total for Missouri is 26.04 inches and ranks as the second wettest May-August on record. Only May-August 1915 was wetter with a total of 27.71 inches.
According to the Missouri Agricultural Statistics Service report for the week ending August 30, 2015, 80% of the state reported topsoil moisture supplies in adequate to surplus condition. Corn condition was reported as 51% in good to excellent condition compared to 83% at the same time last year. Soybean condition was 32% in good to excellent condition compared to 76% last year. Pasture conditions were rated at 63% in good to excellent condition compared to 36% last year. Hay and other roughages were 94% adequate to surplus, similar to last year.
The autumn outlook (Sep-Oct-Nov) issued on August 20, 2015 by the Climate Prediction Center indicates an enhanced likelihood of below normal temperatures over west central and southwestern Missouri and equal chances for above, below and near normal temperatures across the rest of the state, Figure 7. There is an enhanced likelihood of above normal precipitation to occur over far western and southern Missouri with equal chances for the rest of the state, Figure 8.
---
Jump to:
Location
County

August 2015
Rainfall (in.)
Lockwood
Dade
10.4
Hurley 3.5NNE
Stone
10.2
Carthage 1.5S
Jasper
9.75
Ava 6W
Douglas
9.60
St. Charles
St. Charles
9.38
Auxvasse 6NW
Audrain
0.49
Higginsville
Lafayette
0.73
Glasgow
Howard
0.80
Richmond 0.8SE
Ray
0.89
Prairie Hill 2WNW
Chariton
0.94
Rainfall reports from NWS, CoCoRaHS and Missouri Mesonet
Table 1.
Missouri Top 10 Wettest Summers
(Jun-Jul-Aug)Period of Record: 1895-2015
Year
Total Rainfall (in.)
1951
20.17
1915
20.12
1993
19.52
1928
19.21
2015*
18.74
1958
18.44
1981
18.34
1902
17.30
1895
17.11
1924
17.01
*Preliminary
Table 2.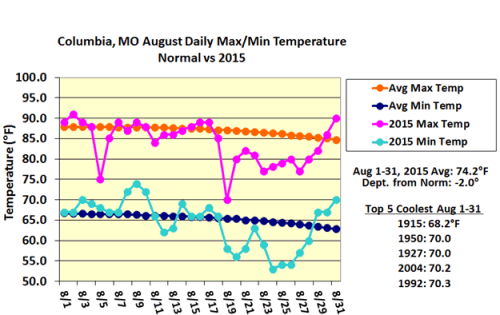 Figure 1.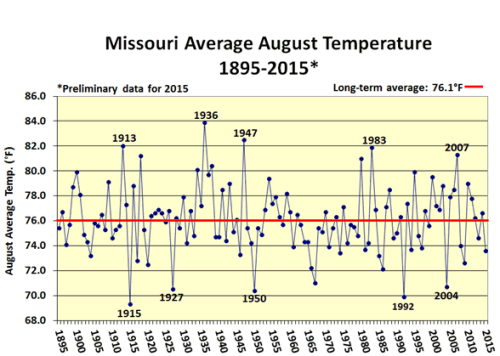 Figure 2.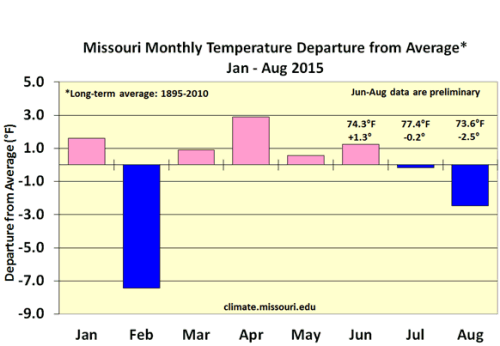 Figure 3.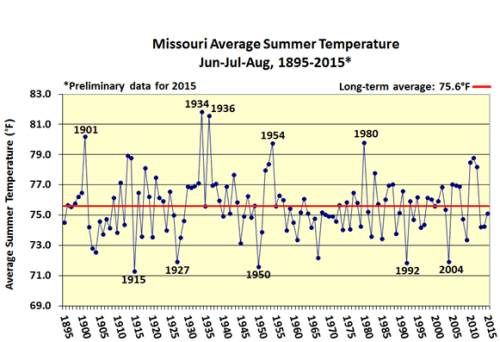 Figure 4.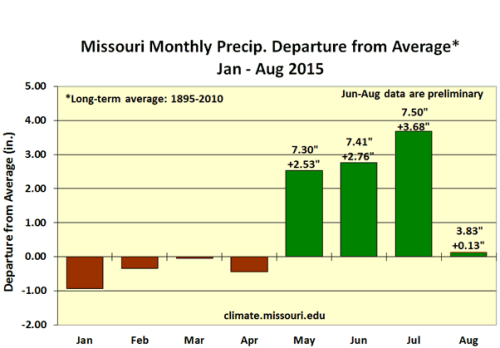 Figure 5.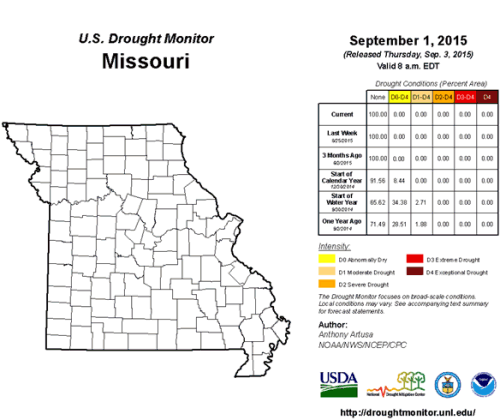 Figure 6.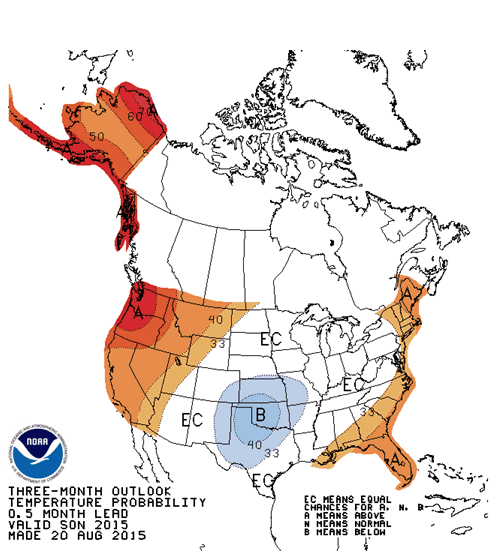 Figure 7. Climate Prediction Centerís Autumn Temperature Outlook,
Sep-Oct-Nov, 2015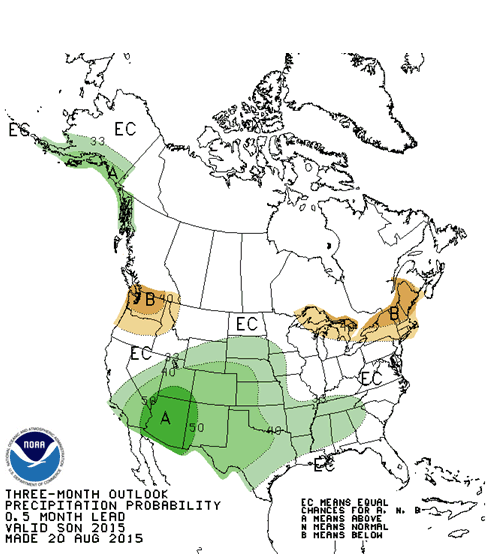 Figure 8. Climate Prediction Centerís Autumn Precipitation Outlook,
Sep-Oct-Nov, 2015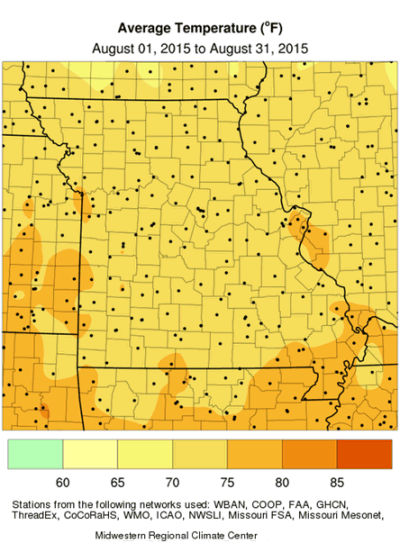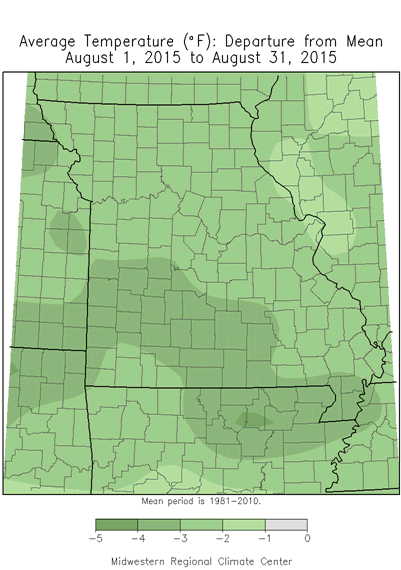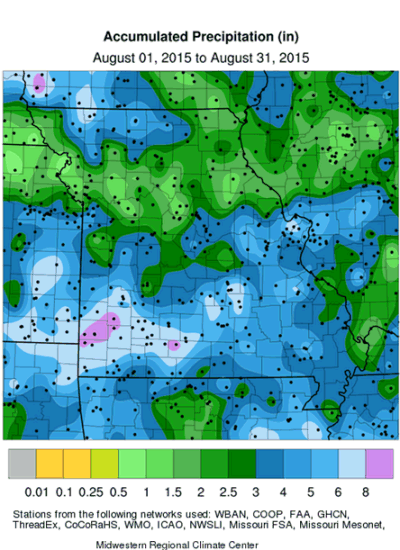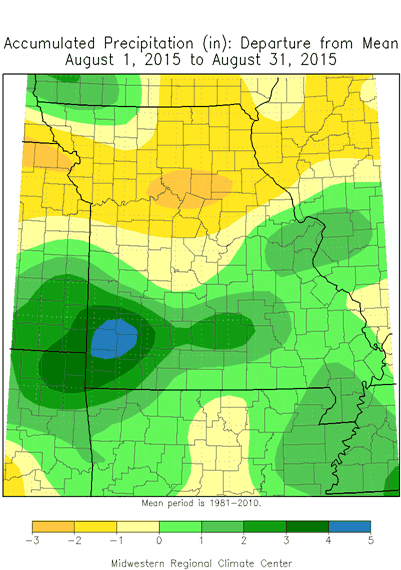 ---
Source: Pat Guinan, 573-882-5908