August 2013 Weather and Its Impacts on Missouri
Pat Guinan
State Climatologist
Commercial Agriculture/University of Missouri Extension
Incredible precipitation disparities impacted Missouri during August, ranging from historic flooding to severe drought. Some communities in north central and northeastern Missouri reported no measureable rainfall, and their driest August on record, whereas counties in south central Missouri received more than 15 inches of rain and witnessed their wettest August on record. In regard to departures from normal, these were some of the largest precipitation disparities in the country, Figures 1 and 2.
Even though monthly precipitation totals occurred on both extremes across Missouri, the preliminary statewide average total for the month was slightly above normal, or just over four inches. Generally, northern sections reported less than 1-inch for the month, central sections between 1-3 inches, and 4-10 inches over southern Missouri. It was the driest August across northern Missouri in nearly 3 decades, or since 1984. Kirksville Regional Airport (Adair Co.), Edina (Knox Co.), Canton Lock and Dam (Lewis Co.), Macon (Macon Co.) and Brookfield (Linn Co.) all reported their driest August on record with a trace, trace, 0.01", 0.01 and 0.04" reported, respectively. Additional locations in Grundy, Sullivan, Schuyler, Scotland, and Clark counties also reported less than 0.10" for the month.
Favorable surface and upper air conditions during the first part of August led to an extended and exceptional wet pattern across southern Missouri. Thunderstorm complexes developed over Kansas between August 2-10 and traveled along a stationary frontal boundary draped across southern Missouri. Historic flooding was reported, especially over some south central counties where more than a foot of rain fell. Some of the heaviest August totals include:
| | | |
| --- | --- | --- |
| Location | County | August Total (in.) |
| Richland | Pulaski | 20.25 |
| Fort Leonard Wood | Pulaski | 17.00 |
| St. Robert | Pulaski | 16.86 |
| Hazelgreen | Laclede | 15.44 |
| Brumley | Camden | 14.74 |
| Branson | Taney | 13.84 |
| Hartville | Taney | 13.02 |
Extreme and intense rainfall, approaching 10 inches in some locations, was reported on August 6-7 in south central Missouri and impacted Camden, Laclede, Miller, Maries, Pulaski, Texas, Phelps, and Dent counties. The Branson Airport reported 8.00 inches on August 8.
Widespread flash flooding led to numerous water rescues and road closures during the period. Three fatalities were reported in two separate incidents involving cars swept away by flash flooding. A mother and son perished in Pulaski County, and another woman was swept away as she tried to cross a flooded creek in McDonald County. Record flood crests were reported along parts of the Gasconade River, including Rich Fountain in Osage County, where on August 8 it was 1.1 feet deeper than the previous record set on December 6, 1982.
Seasonably cool and pleasant temperatures were the rule for much of the summer, but a major pattern change during the third week of August resulted in a late summer heat wave for Missouri. Temperatures during the first 3 weeks of the August averaged 5-6 degrees below normal, but those departures quickly evaporated when heat built-in during the last 10 days of the month, and high temperatures climbed well into the 90's, including some triple digit heat at the end of the month, Figure 3. Overall, the statewide average temperature for the month was 75.1°F, or just over 1 degree below normal.
Dry conditions had existed across northern and central Missouri since June, but cool temperatures and an unusual amount of cloudy days this summer mitigated drought stress, in addition to below normal evaporative rates. For comparison, total estimated April- August evapotranspiration (ETo) was nearly 7 inches less this year in mid-Missouri than for the same period last year, Figure 4.
Unfortunately, the late summer heat wave initiated "flash drought" conditions across northern Missouri and vegetative stress quickly ensued, including significant declines in row crop and pasture conditions. By the beginning of September, the northern half of Missouri was experiencing moderate to severe drought, Figure 5.
According to the Missouri Agricultural Statistics Service September 1, 2013 report, the north central and northeastern crop districts were reporting 67% and 76%, respectively, of their topsoil moisture in very short condition. Corn, soybean and pasture conditions had also notably declined during the latter half of August across northern and central Missouri, especially in the north central, northeastern and central districts where 49%, 41%, and 35%, respectively, of the corn was in poor to very poor condition and 52%, 38% and 36%, respectively, of the soybean crop, was in poor to very poor condition. The majority of pastures across northern Missouri were in poor to very poor condition. Hay and stock water supplies were mostly adequate across the state, though there were numerous reports of feeding hay across northern Missouri where pastures had burned up.
---
Jump to: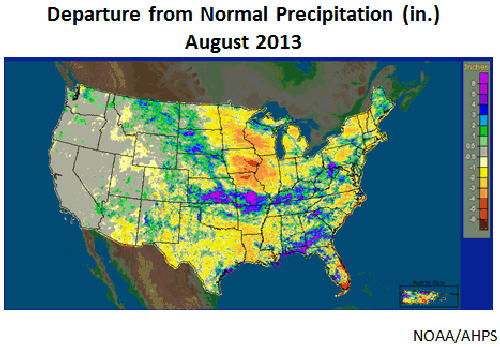 Figure 1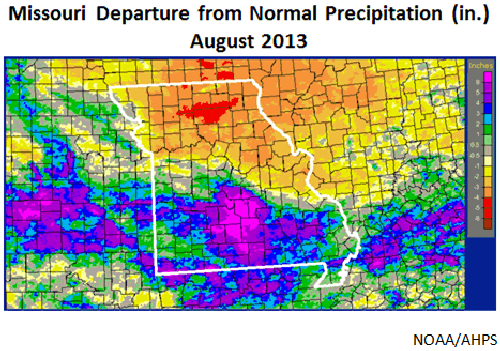 Figure 2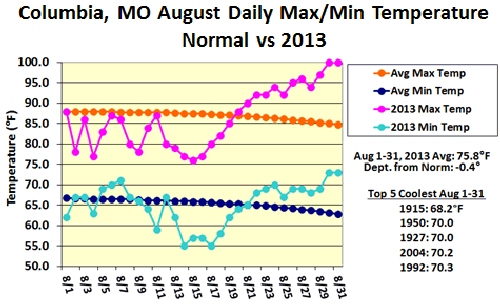 Figure 3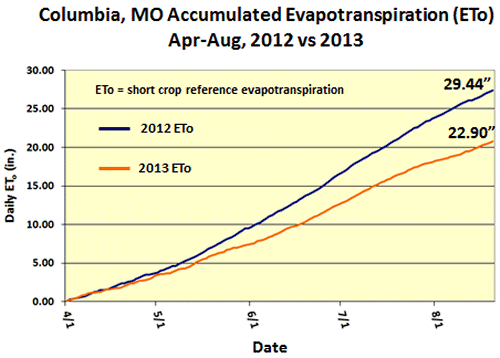 Figure 4
Figure 5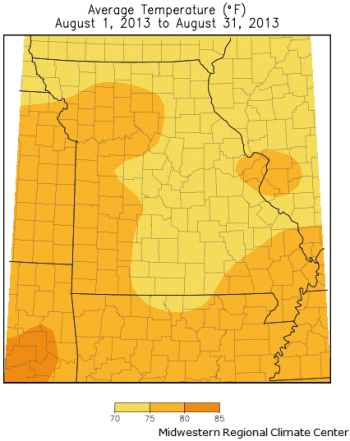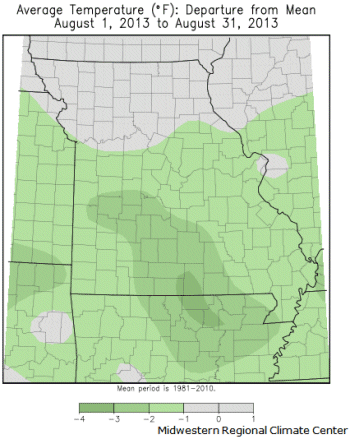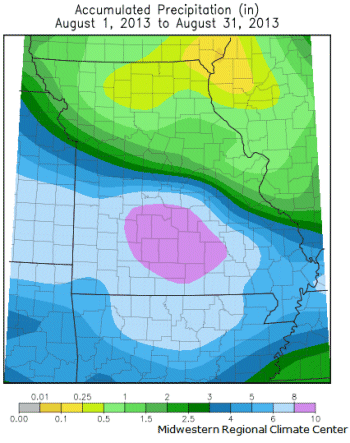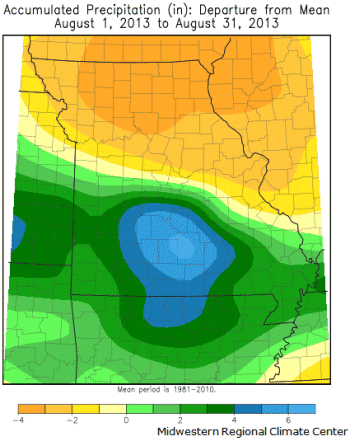 ---
Source: Pat Guinan, 573-882-5908