August 2011 Weather and
Its Impacts on Missouri
Pat Guinan
State Climatologist
Commercial Agriculture/University of Missouri Extension
Above normal summertime temperatures persisted throughout much of August, wrapping up another hot summer for the Show Me State. Preliminary numbers indicate average June-August temperatures for the state were slightly under 79°F, and rank the summer of 2011 as the 7th hottest on record, 0.1°F warmer than the summer of 2010.
The preliminary average statewide temperature for August was 77.8°F, or 1.7° above normal. The hottest temperatures for the month occurred during the first and last week of August with more seasonable temperatures occurring during the second and third weeks. Regional temperatures during August averaged 1-2 degrees above normal across northern, central, south central and southeastern sections, and 2-4 degrees above normal over southwestern Missouri. Larger urban locations, i.e. St. Louis and Kansas City, averaged 2-3 degrees above normal for the month. Specifically, northern Missouri temperatures averaged between 75-76°F, whereas central Missouri and the Ozark region averaged between 76-78°F. Southwestern Missouri and the Bootheel region averaged between 79-81°F. Notable outliers were far southwestern counties where average August temperatures averaged between 83-84°F. The average August temperature for Joplin, MO was 84.0°F, or 4.3° above normal.
The hottest day of the summer occurred on August 2 when triple digit heat impacted much of the state. Numerous locations, especially across west central and southwestern sections, witnessed their hottest temperatures in more than 25 years. Some high temperature records include 108°F at Springfield and Columbia, 110°F in downtown Kansas City, as well as several locations in southwestern Missouri. The southwestern communities of Eldorado Springs (Cedar Co.) and Protem (Taney Co.) reached 111° and 113°, respectively.
Precipitation events were more numerous, and heavier, across parts of Missouri during August than the previous month, bringing some relief to the state. Preliminary numbers indicate a statewide average of nearly 4 inches, which is about a third of an inch above normal. Specifically, totals across the southwestern half of Missouri were near to above normal and averaged between 3-6 inches, whereas rainfall totals were below normal, less than 3-inches, across the northeastern half of the state.
Heaviest monthly totals were confined to some south central counties where more than 8-inches were reported across parts of Dallas, Laclede, Phelps, Texas, Dent, Howell, Shannon and Oregon counties. The Farm Service Agency office, just east of Lebanon, reported 10.74 inches for the month. Driest conditions were reported across the northeastern border counties where some locations reported less than 1-inch of rain. Florissant (St. Louis Co.) and Hannibal (Marion Co.) reported 0.47 and 0.39 inches, respectively. By the end of the month, moderate to severe drought conditions had evolved across northeastern Missouri, generally from St. Louis to the Iowa border. Persistent moderate to severe drought conditions continued to plague southwestern Missouri for the entire month.
Two notable severe weather events impacted parts of northwest and west central Missouri during the evening hours of August 19th with damaging straight line winds and large hail. The first was a large supercell thunderstorm that moved southeastward out of southwestern Iowa and impacted Nodaway, Gentry and Daviess Counties with 70-80 mph winds and quarter (1.00") to golf ball (1.75") sized hail. The community of Maryville was particularly hard hit by wind and hail with many reports of tree and property damage. There were numerous reports of trees being completely defoliated in Nodaway County, where wind and hail was most intense.
The supercell thunderstorm also caused widespread crop damage across Nodaway County with reports of thousands of acres of flattened corn and completely defoliated soybean fields (Figure 1.) According to Wayne Flanary, an Extension Agronomist in the region, the crop damage around the Maryville area was the worst he has ever seen in his career. Similarly, in an interview with the Maryville Daily Forum, Tim Dreier, of the USDA Farm Service Agency, stated the swath of destruction was several miles wide and extended from Braddyville, Iowa southeastward to Stanberry (Gentry County). He estimated 25% of Nodaway County's planted acreage may be written off as a complete loss. Mr. Dreier also mentioned to the newspaper he had not seen weather damage this widespread in his 21-year USDA career.
Another line of severe thunderstorms moved through northwestern Missouri later during the evening of August 18th and brought damaging wind and hail reports along several Missouri border counties from Atchison to Bates Counties as well as Dekalb, Clinton, Caldwell, Clay, Ray, Lafayette, Johnson, Pettis, Benton, Morgan and Miller Counties.
According to the Missouri Agricultural Statistics Service, 65% of the state reported topsoil moisture supplies in short to very short condition toward the end of the month. Topsoil moisture conditions in northeast and southwest Missouri were reported 99% and 98% short and very short, respectively. Corn, soybean and pasture conditions continued to deteriorate with 44%, 30% and 44% in poor to very poor condition, respectively. The southwestern district has been especially hard hit with 66% of the soybean crop in very poor condition. Complete crop failures were also reported in southwest Missouri. Burned up pastures were forcing livestock producers to feed hay in some areas.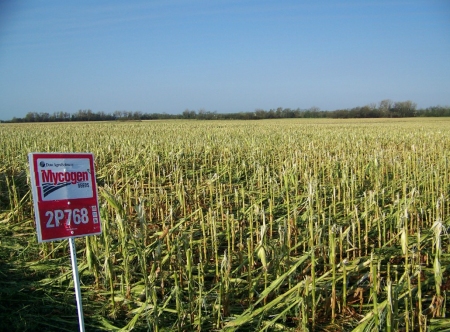 Figure 1. Hail and wind damage near Maryville, MO, Nodaway County. Storm occurred during the evening of Aug 18, 2011 and picture was taken on Aug 19, 2011. Note the completely defoliated trees in the background. Photo Credit: Mr. John Laffey