September 2015 Weather and Its Impacts on Missouri
Pat Guinan
State Climatologist
Commercial Agriculture/University of Missouri Extension
Warm and dry was the September weather theme in Missouri with preliminary data indicating a statewide monthly temperature averaging more than 3 degrees above normal and monthly precipitation nearly two inches below normal. It was the warmest September in a decade and the driest since 2004, Figures 1 and 2. Above normal daily temperatures were dominant with hottest conditions occurring during the first week of the month, Figure 3.
September continued the warm weather pattern that has prevailed this year, Figure 4. Despite the wettest May-July on record for the state, Figure 5, dry August and September conditions were beginning to show impacts. According to Dr. Lee Miller, turfgrass expert from the University of Missouri, "Unirrigated turfgrasses over parts of Missouri, particularly cool season varieties, had gone into drought dormancy. Exposed clay or silt clay loam soils were showing deep cracks and significant irrigation efforts were necessary for seeding of cool-season turfgrasses. September through early October is the recommended timeframe for these efforts and it has been very challenging this year".
The Drought Monitor map indicated abnormally dry conditions over much of central and northeastern Missouri by the end of September; smaller pockets of dryness had also emerged in other parts of the state, Figure 6.
The northwestern tip of Missouri, and a few isolated locations around the state, reported the highest monthly rainfall totals, generally 4-6 inches. Driest areas, where less than 0.50" was reported, were mostly located in east central and far southeastern sections. Statewide, most locations reported 1.0-3.0 inches of precipitation. Table 1 shows some of the highest and lowest totals in the state.
Missouri September 2015 High and Low Rainfall Extremes*
Location
County

Sep Total Rainfall (in.)
Grant City 0.5NE
Worth
6.99
Butler 0.8SSW
Butler
6.79
Kansas City Intl Airport
Platte
5.73
Rock Port 0.5E
Atchison
5.73
Appleton City
St. Clair
4.98
Steelville 2N
Crawford
0.38
Palmyra 1W
Marion
0.42
New Madrid
New Madrid
0.44
Washington
Franklin
0.53
Spirit of St. Louis Airport
St. Louis
0.53
*Collected from NWS weather stations and CoCoRaHS rain gauges
Table 1.
Dry August-September conditions, preceded by unprecedented May through July wetness, made it a very challenging year for row crop farmers. Late planted soybean was in need of water during September and showing signs of stress. Compaction issues and poorly developed root systems, related to the antecedent wet conditions, were making it difficult for plant moisture uptake, especially in high clay content soils. As of September 28th, more than a third of the soybean crop was reported in poor to very poor condition in the central (34%) and northeast (35%) crop reporting districts, according to the Missouri Agricultural Statistics Service.
Crop harvest was advancing steadily due to dry conditions. More than 80% of the pastures were reported in fair to good condition, and 82% of hay supplies and other roughages were adequate. The majority of stock water supplies were reported as 90% adequate.
Another concern for farmers this year is an early frost, especially across the northern half of Missouri. It may be well into October before soybean reaches maturity in the region. Most sections of the state will experience their first fall frost during October. Using climatology, the northern quarter of Missouri and eastern Ozarks will experience a light freeze (32° or cooler) as early as October 12 on 5 out of 10 years. Central Missouri and the western Ozarks will experience a light freeze on 5 out of 10 years by October 20. The Bootheel will have a light freeze on 5 out of 10 years by October 30. For more information on Frost/Freeze probabilities for Missouri, please visit the following link: http://ipm.missouri.edu/FrostFreezeGuide/
---
Jump to: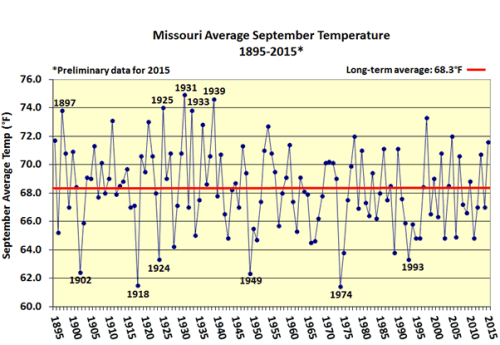 Figure 1.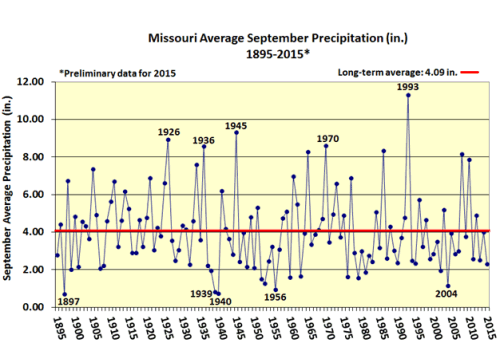 Figure 2.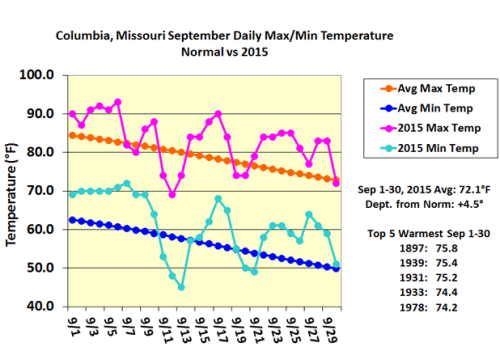 Figure 3.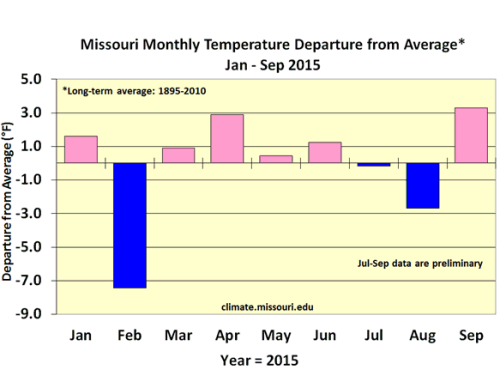 Figure 4.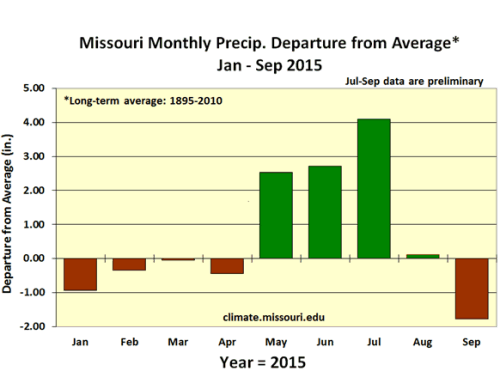 Figure 5.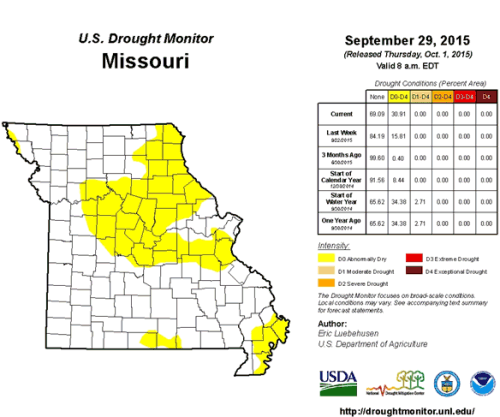 Figure 6.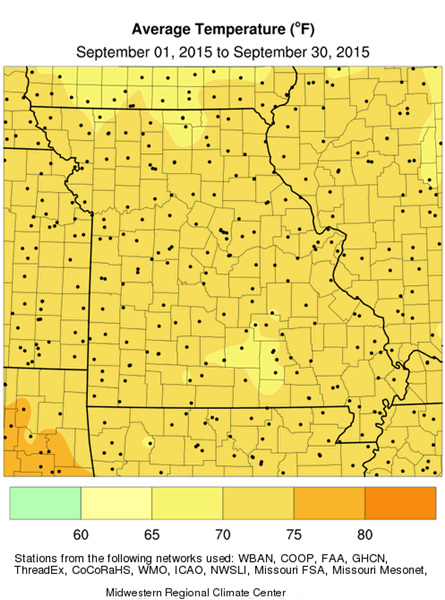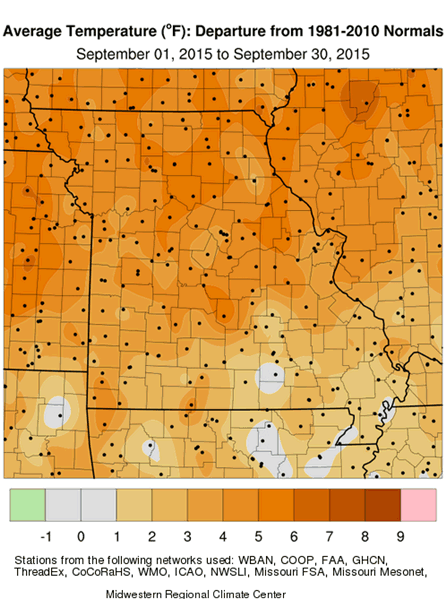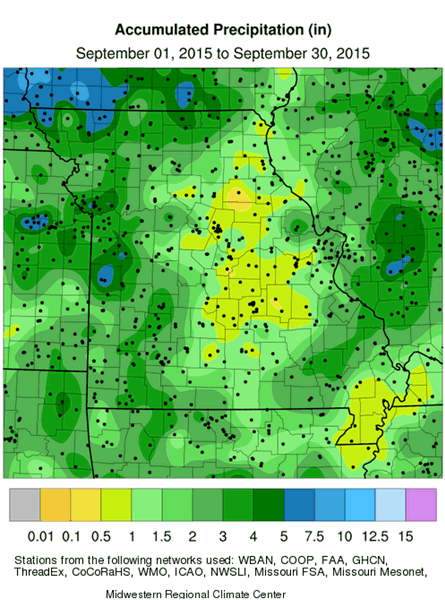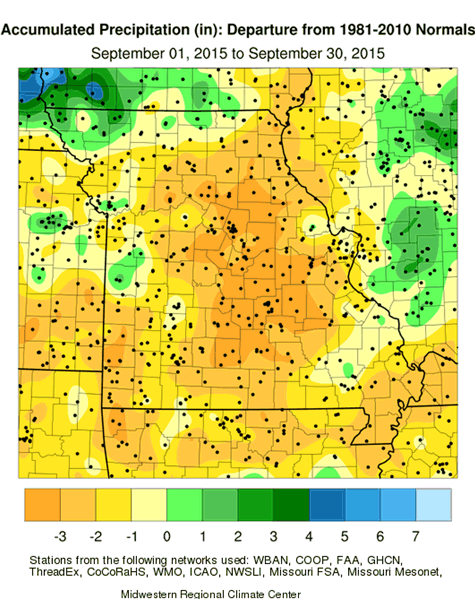 ---
Source: Pat Guinan, 573-882-5908