September 2014 Weather and Its Impacts on Missouri
Pat Guinan
State Climatologist
Commercial Agriculture/University of Missouri Extension
Below normal temperatures were dominant in Missouri for the first 3 weeks of September followed by an early autumn warm spell during the last week of the month, Figure 1. Preliminary data indicate the statewide average temperature was 67.0°F, or a little more than one degree below the long-term average, Figure 2. The month continued the cool weather pattern that has clearly prevailed since the spring of 2013, Figure 3. The first 9 months of this year rank as the 8th coolest on record (since 1895) and it's the coolest January through September period since 1979, Figure 4.
Some record lows were established during the morning hours of September 13 when temperatures dropped into the upper 30's across all of northern, and parts of central Missouri. Kansas City and St. Joseph both reported a record minimum of 37°F, with Kansas City breaking a 124-year old record, 39°F, set in 1890.
Rainfall was highly variable across Missouri during September, but the statewide average was around 4-inches, which is near the long-term average, Figure 5. Heaviest totals occurred over northern, central, east central and southwestern sections where 4-6 inches were common. Lesser amounts, ranging between 2-4 inches, were reported in west central, south central and southeastern Missouri. A few locations, however, reported higher and lower rainfall totals, Table 1.
Missouri September 2014 High and Low Rainfall Extremes*
| | | |
| --- | --- | --- |
| Location | County | Sep Total Rainfall (in.) |
| 5 mi west of New Boston | Linn | 11.88 |
| 8.1 mi north of Mound City | Holt | 10.86 |
| 2.5 mi east-southeast of Linneus | Linn | 10.42 |
| Kirksville Regional Airport | Adair | 10.07 |
| 8.9 mi east of Columbia | Boone | 9.35 |
| 1.1 mi northeast of Perryville | Perry | 0.65 |
| 10.2 mi south-southeast of Steelville | Crawford | 1.15 |
| 11.1 mi south-southwest of Ste. Genevieve | Ste. Genevieve | 1.26 |
| 0.4 mi northeast of Marble Hill | Bollinger | 1.37 |
| 1.1 mi southwest of Jackson | Cape Girardeau | 1.51 |
*Collected from NWS weather stations and CoCoRaHS rain gauges
Table 1.
There were few notable precipitation events during the month, but they were widespread and significant when they occurred. The first event impacted much of central and southwestern Missouri on September 1st and 2nd where 1-3 inches were common. A small area of unusually heavy rain, 3-6 inches, fell along a 20-30 mile wide corridor in central Missouri from Cooper county eastward through Boone, Callaway, Montgomery, Warren, Lincoln and St. Charles counties. Numerous locations in and around Columbia received 5.5 to 6 inches of rain over a 7-hour period beginning 6 p.m., September 1 through 1 a.m., September 2. There were numerous reports of flooded and closed roads and water in basements.
Two additional significant rain events occurred between September 9-11, when 3 to 6 inches, and localized higher amounts, occurred across northern sections during mostly the evening and early morning hours of September 9 and 10, and 1-3 inches fell across parts of southeastern Missouri on the 10th and 11th.
Some unusually intense and heavy rainfall occurred over parts of northern Missouri on September 9 and 10, especially along and north of Highway 36, Figure 6. CoCoRaHS and NWS cooperative observers in Holt, Grundy, Linn, Macon, Adair, Knox and Lewis counties reported more than 7 inches of rain, much of it falling in less than 6 hours. Extensive flooding and flash flooding was reported with numerous reports of closed and washed out roads. Widespread bottomland flooding was also reported. Highest amounts were reported in northern Holt county (9.48") and northeastern Linn county (10.42"). A CoCoRaHS observer in Holt county reported 7.03 inches fell in a 1-hour period (Sep 9, 6:30-7:30 p.m. CDT), with widespread flash flooding, when a supercell thunderstorm impacted the area, Figures 7 and 8. The Kirksville airport reported 5.10 inches over a 2-hour period (11 p.m. and 1:00 a.m. CDT) on September 9-10.
As of September 28th, the Missouri Agricultural Statistics Service reported 76% of the pastures in fair to good condition, and 86% of hay supplies and other roughages adequate. The majority of stock water supplies were also adequate. Cooler than normal temperatures this past summer in combination with timely rain events translated to great crop conditions as the growing season winded down. Corn and soybean yields were looking promising across the state with 86% of the corn and 72% of the soybean reported to be in good to excellent condition.
During this time of year concerns arise over the prospects of freezing temperatures occurring in Missouri. Most sections of the state will experience their first fall frost during October. Using climatology, the northern quarter of Missouri and eastern Ozarks will experience a light freeze (32° or cooler) as early as October 12 on 5 out of 10 years. Central Missouri and the western Ozarks will experience a light freeze on 5 out of 10 years by October 20. The Bootheel will have a light freeze on 5 out of 10 years by October 30.
---
Jump to: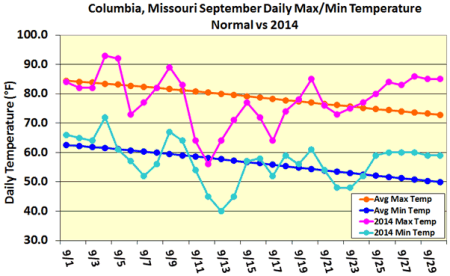 Figure 1.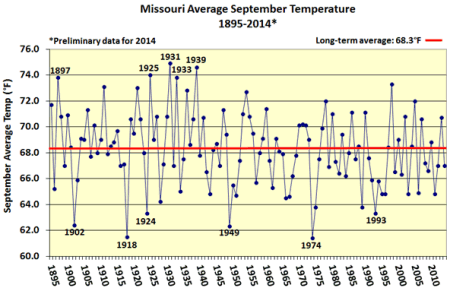 Figure 2.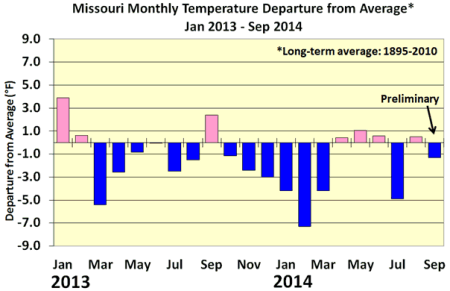 Figure 3.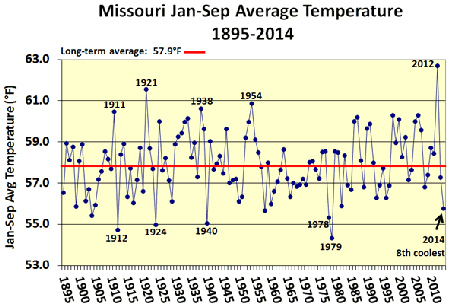 Figure 4.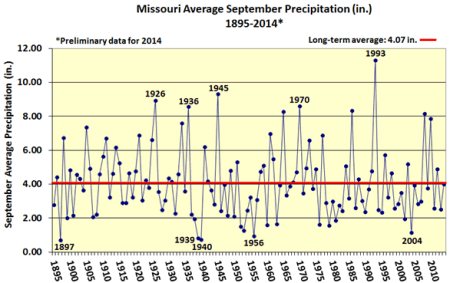 Figure 5.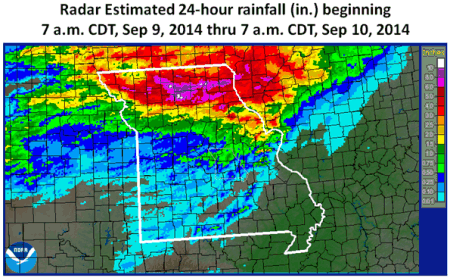 Figure 6.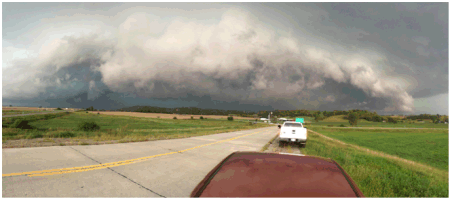 Figure 7. Supercell thunderstorm in Atchison County, Missouri, September 9, 2014. Photo by Clinton Dougherty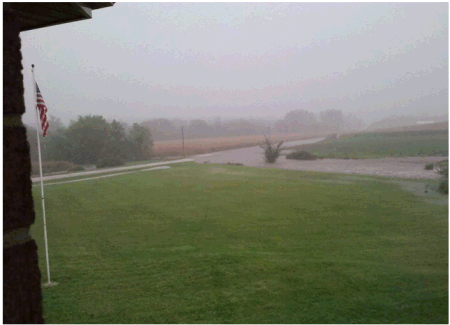 Figure 8. Northern Holt County, Missouri after 7 inches of rain fell in 1 hour, September 9, 2014. Photo by Bill Metzgar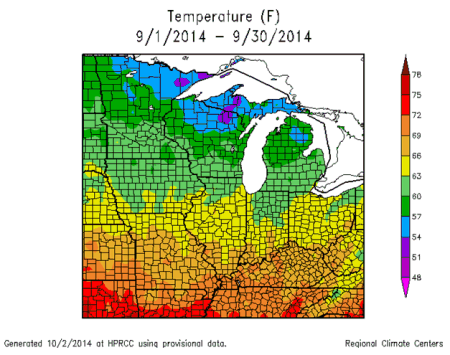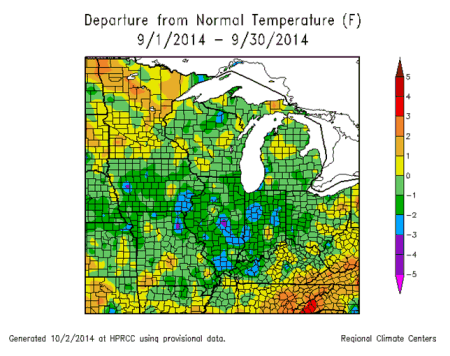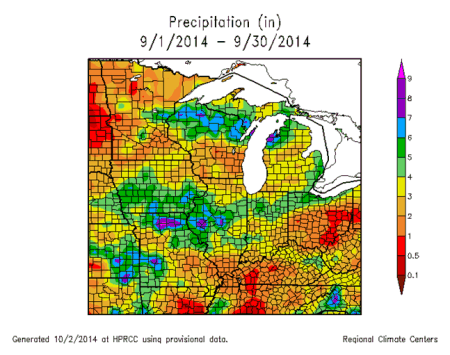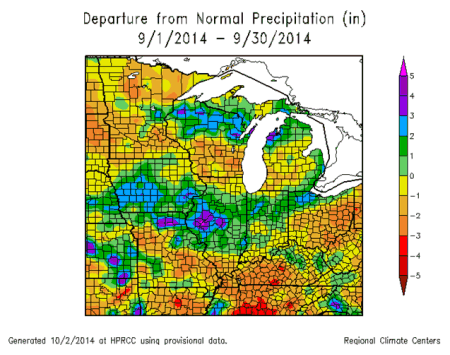 ---
Source: Pat Guinan, 573-882-5908