October 2015 Weather and Its Impacts on Missouri
Pat Guinan
State Climatologist
Commercial Agriculture/University of Missouri Extension
Dry autumn conditions continued through October with all of Missouri receiving below normal rainfall. It was the driest October since 2011, Figure 1, where preliminary rainfall data indicated a statewide monthly average of 1.53 inches, or 1.67 inches below normal. It was the second consecutive month with below average rainfall, Figure 2, and the driest September-October period in over 50 years (1963), slightly drier than 2011, Figure 3.
The extended dry period was slowing fall grass growth in lawns and pastures and in some instances pushing them into early dormancy. Some livestock producers were already using supplemental hay supplies. Watered turfgrasses looked better, but irrigation rates were unusually high and costly for the time of year. Even though evaporation rates decline in autumn, low water levels were evident in streams, lakes and ponds. More grass fires than usual were also being reported.
The dryness delayed winter wheat planting due to insufficient soil moisture and the likelihood of poor seed germination, but corn and soybean harvest was running ahead of schedule and crop dry-down opportunities were numerous. According to the Missouri Agricultural Statistics Service, corn and soybean harvest was 96% and 67% complete, respectively, by October 26. That's 10% ahead of the 5-year average for corn and 7% ahead for soybean. Two thirds of the topsoil moisture across the state was reported in short to very short condition and just over half the subsoil moisture was reported short to very short. Only 29% of the pastures were reported in good to excellent condition. The Drought Monitor map toward the end of October indicated nearly 90% of the state experiencing abnormally dry or moderate drought conditions, Figure 4.
Driest October conditions, less than 1-inch, were common in southeastern Missouri, but isolated dry pockets were found in other parts of the state, Table 1. Lowest two month totals (Sep-Oct) were observed over central and eastern Missouri, Table 2.
Mild weather dominated during October with preliminary data indicating a statewide average temperature of 58.0°F, or 1 degree above normal. It was the warmest October in 5 years, Figure 5. The slightly warmer than normal weather was a continuation of autumn warmth and hastened maturity of late planted soybean, Figure 6. The first freeze impacted parts of eastern Missouri on the morning of October 18th when temperatures dropped to the upper 20's and lower 30's. Unusually early freeze conditions were reported over parts of far southeastern Missouri during the morning of October 18th. Another more widespread light freeze impacted much the rest of the state on October 30 and 31. Probabilities for moderate (≤28°F) to hard (≤24°F) freezes in Missouri can be found at the following link: http://ipm.missouri.edu/FrostFreezeGuide/
Location
County

Oct Rainfall
(in.)
Ste. Genevieve
Ste. Genevieve
0.55
Perryville Water Plant
Perry
0.56
Junction City 0.8W
Madison
0.61
Fredericktown
Madison
0.61
Farmington Regional AP
St. Francois
0.62
Kansas Downtown AP
Clay
0.63
Marble Hill 0.4NE
Bollinger
0.65
Joplin Regional AP
Jasper
0.70
Jackson
Cape Girardeau
0.70
Edmundson 0.7NNW
St. Louis
0.74
Table 1.
Location
County

Sep-Oct
Rainfall (in.)
Linn Creek 9.4SE
Osage
1.36
Steelville 2N
Crawford
1.43
St. Thomas
Cole
1.53
Kingdom City 3.2NW
Callaway
1.58
Caledonia 1.8 NNW
Washington
1.59
Pacific
Franklin
1.60
Columbia 6.8SSW
Boone
1.66
Jefferson City Water Plant
Cole
1.70
Vandalia
Audrain
1.71
Ashland 4.2E
Boone
1.74
Table 2.
---
Jump to: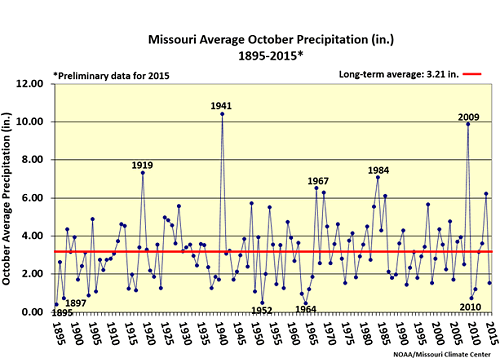 Figure 1.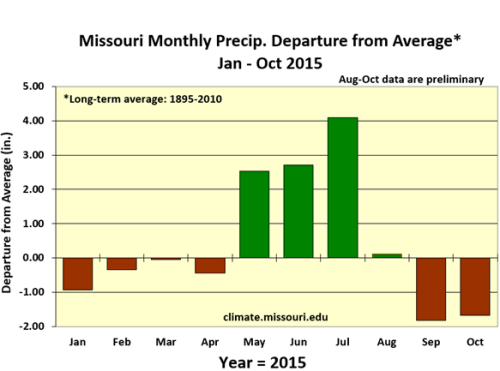 Figure 2.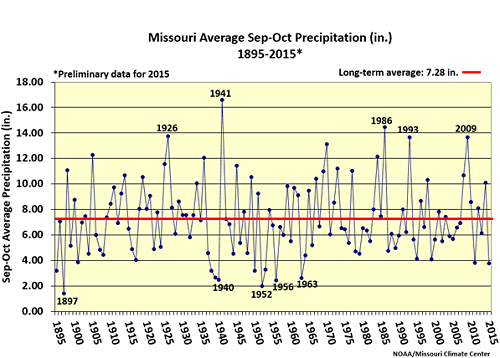 Figure 3.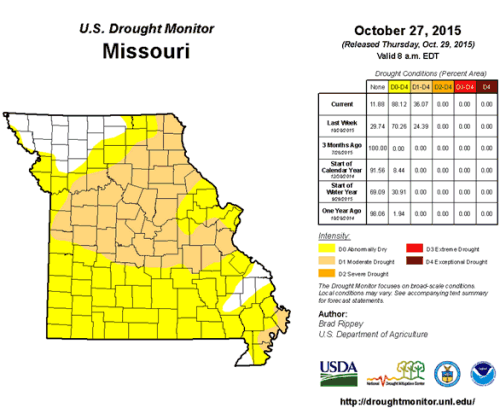 Figure 4.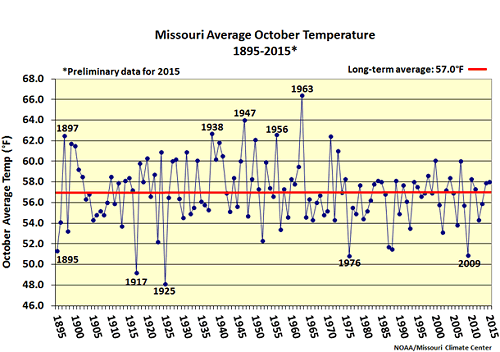 Figure 5.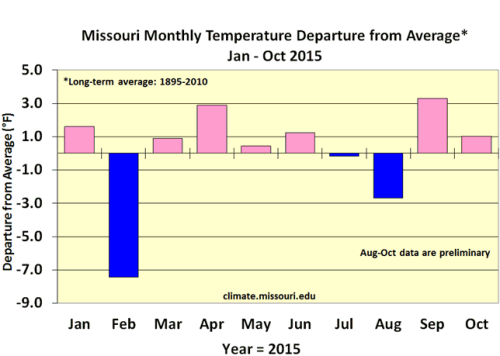 Figure 6.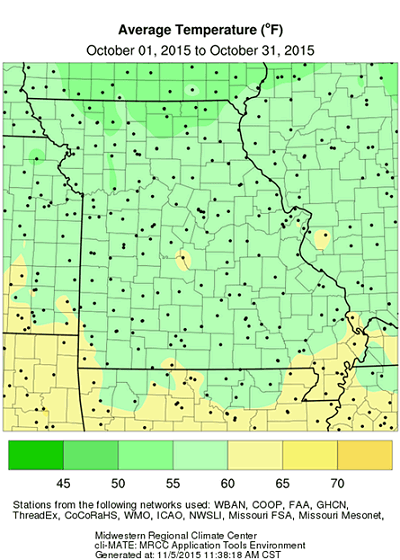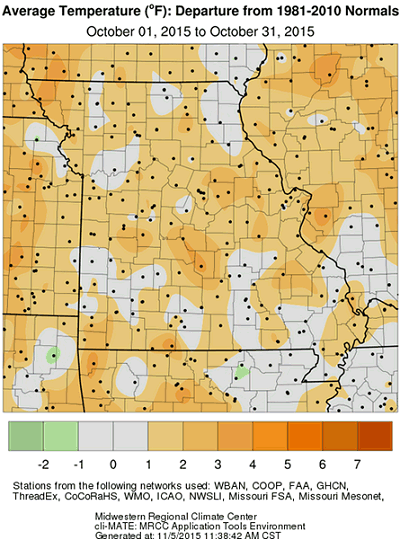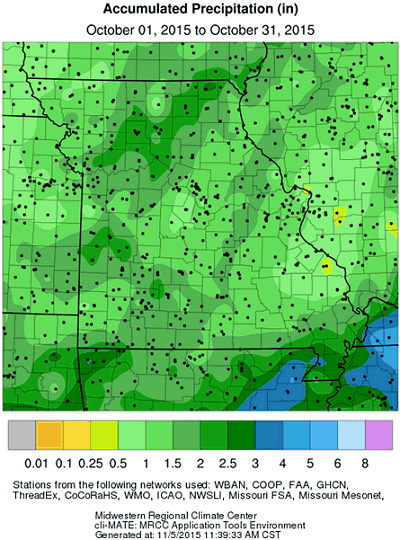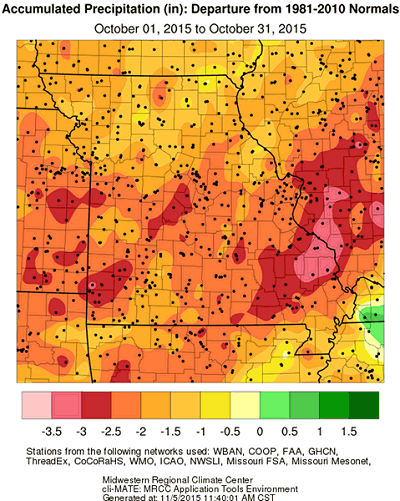 ---
Source: Pat Guinan, 573-882-5908