First half of October wet enough to set record
Debbie Johnson
Senior Writer
University of Missouri Cooperative Media Group
"Extension on the Go" Podcast: go to http://www.radiodeege.com/Podcasts/.
November 7, 2014
COLUMBIA, Mo. - A lot of rain fell on Missouri the first half of October. The second half was, thankfully, dry.
Several counties in central Missouri had more than 10 inches of rain.
"We have records that go all the way back to the late 1800s, and you will not find a wetter first two weeks of October for the state," said Pat Guinan, climatologist for University of Missouri Extension's Commercial Agriculture Program.
After that wet start, a pattern change turned off the tap and fairer weather dominated the last half of October. Even with drier conditions for the second half, the precipitation for the entire month was above normal.
"The preliminary data is indicating that October 2014 will rank as sixth or seventh wettest October on record," Guinan said. "That's how wet the first half was."
Rain stopped harvest for much of October and farmers were unable to return to their fields until the final days of the month, Guinan said.
While the rain did slow the harvest, it brought one great benefit.
"Drought has been eliminated across our state," Guinan said. "The Drought Mitigation Center map indicates no drought in Missouri."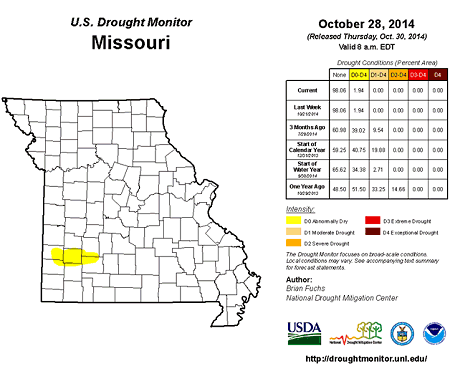 U.S. Drought Monitor - Missouri
Photo credit: Brian Fuchs, with the National Drought Mitigation Center
October temperatures were not as extreme as precipitation, but there were some highs. Guinan says on Oct. 25-26 temperatures climbed to the mid- and upper-80s. The monthly temperatures averaged slightly above normal.
"With the exception of a cool July and September, slightly above-average temperatures dominated this year's growing season, so it was a decent growing season when you look at temperatures," Guinan said.
Missouri saw its first widespread freeze on Halloween night, with temperatures dipping into the 20s and 30s. Guinan says that effectively ended the 2014 growing season.
More information is available on the Missouri Climate Center website at http://climate.missouri.edu.
---
Source: Pat Guinan, 573-882-5908