October 2014 Weather and Its Impacts on Missouri
Pat Guinan
State Climatologist
Commercial Agriculture/University of Missouri Extension
Highly variable precipitation patterns characterized October weather for Missouri with unprecedented wetness during the first half of the month and little to no rainfall during the latter half of October. Preliminary data indicates the statewide average rainfall for the first two weeks of October was around 6-inches and ranked as the wettest first half of the month since records began in 1895. Several counties in central Missouri received more than 10 inches of rain during the first two weeks of the month, Table 1.
Location
County
Oct 1-14
Rainfall (in.)
Troy 1.2NE
Lincoln
11.95
Clinton 0.9NNW
Henry
11.86
Columbia 8.9E
Boone
11.21
California 0.3SW
Moniteau
11.19
Fayette 2.3S
Howard
11.16
Platte City 0.3ENE
Platte
10.89
Liberty 9.4 NNE
Clay
10.81
Cole Camp 3NW
Benton
10.51
Eldon
Miller
10.17
Table 1.
Lightest monthly totals were confined to the northwest corner of the state where locations in Atchison, northern Holt, Nodaway and Worth counties received 3-3.5 inches. Most locations south of highway 36 received more than 5 inches for the month.
Little to no rainfall occurred during the latter of October and preliminary rainfall data indicates a monthly statewide average total of 6.24 inches, nearly 3 inches above normal and the 7th wettest October on record, Figure 1. Most of the rain fell during three widespread, heavy events on October 1-2, 9-10 and 13. Portions of central Missouri reported flooding on October 1-2 when 3-5 inches fell, and southwestern sections received 3-5 inches on October 9-10 with localized flooding. Additional flooding and severe weather was reported on October 13-14 when a strong storm system moved across the state. Six tornadoes, 3 in southwestern Missouri and 3 in southeastern sections of the state, caused minor tree and property damage on October 13.
The heavy rain events eliminated all pre-existing drought conditions in Missouri according to the October 28, 2014 Drought Monitor map, Figure 2.
Alternating periods of warm and cool weather occurred during the month, Figure 3, but monthly temperatures averaged slightly above normal, Figure 4. Some record highs were established on October 25-26 when temperatures climbed into the mid and upper 80's. With the exception of July and September, slightly warmer than normal conditions have dominated for this years' growing season, Figure 5. The first widespread freeze impacted Missouri on October 31, and effectively ended the 2014 growing season.
Harvesting opportunities were halted during the first 3 weeks of the month, but abundant sunshine in combination with mild temperatures, and little to no rainfall during the latter half allowed farmers to resume fieldwork activity by the end of October. According to the Missouri Agricultural Statistics Service, corn and soybean harvest was 68% and 46% complete, respectively, for the week ending October 27.
---
Jump to: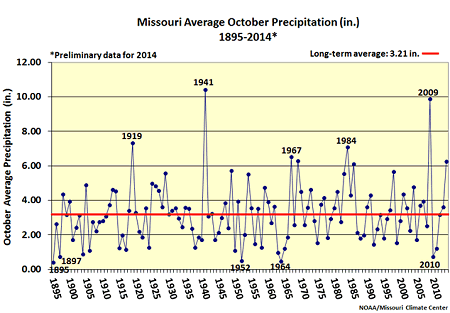 Figure 1.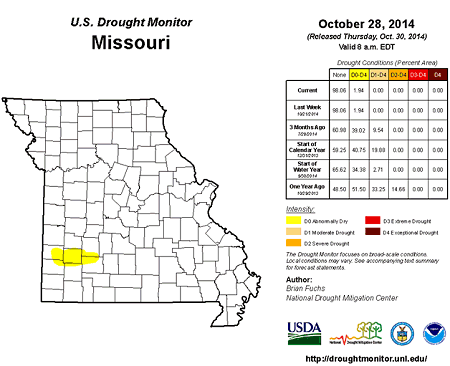 Figure 2.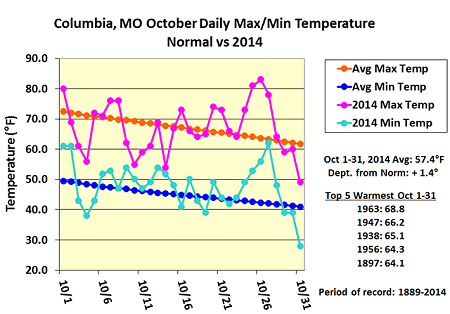 Figure 3.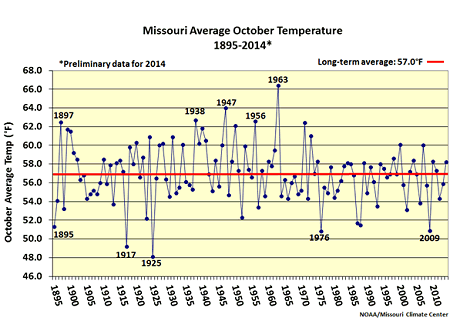 Figure 4.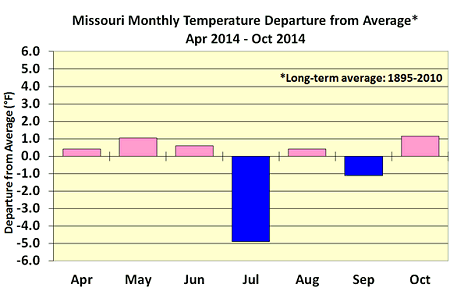 Figure 5.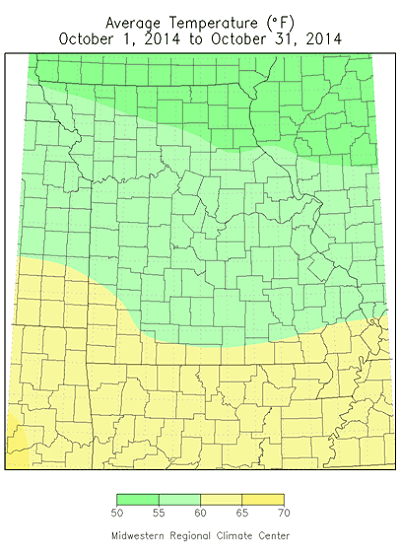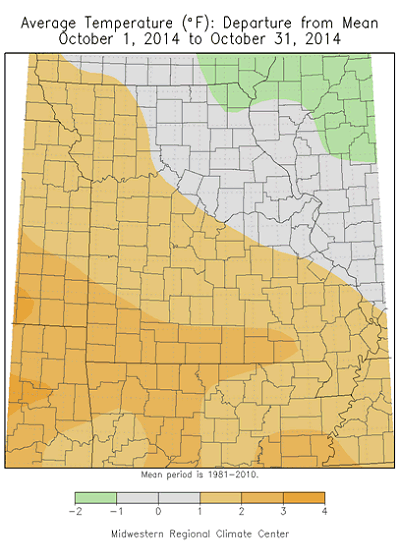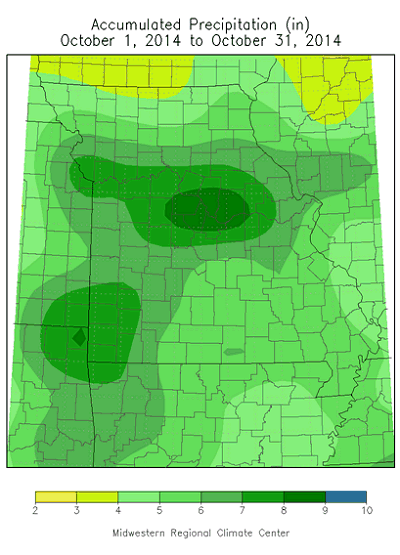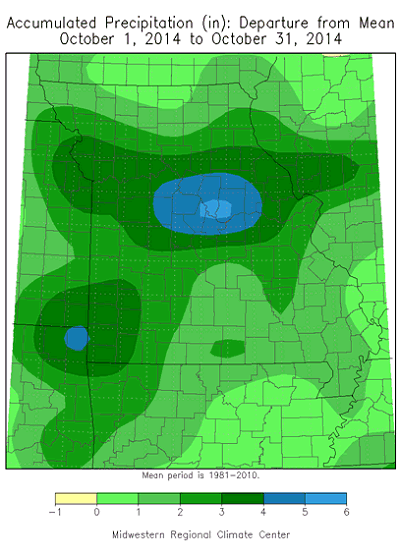 ---
Source: Pat Guinan, 573-882-5908