April 2019 Weather and Its Impacts on Missouri
Pat Guinan
State Climatologist
University of Missouri Extension
Seasonably mild temperatures impacted Missouri during April with daily temperatures mostly above average, Figure 1. The weather conditions have been representative of warmer than average Aprils over the past couple decades where only six Aprils have been cooler than average since 1999, Figure 2. Preliminary April data indicate a statewide average temperature of 56.0 °F, slightly more than 1 degree above the long-term average. It was the first warmer than average month since January, Figure 3. Most locations experienced freezing temperatures during the month with coldest temperatures reported during the beginning of April, Table 1.
April 2019 Minimum Temperature Extremes*
Station Name*
County

Min Temp (°F)
Date

Salem 10W
Dent
20
4/1
Winona 3SW
Shannon
20
4/2
Bethany
Harrison
22
4/1
Gallatin 1W
Daviess
22
4/1
Green City 5N
Sullivan
22
4/1
Ava 6NW
Douglas
22
4/2
Round Spring 2SW
Shannon
22
4/1
Amity 4NE
DeKalb
23
4/1
Princeton
Mercer
23
4/1
Tarkio #2
Atchison
23
4/1
Rosebud
Gasconade
23
4/1
Eminence 1N
Shannon
23
4/1
Fredericktown
Madison
23
4/2
Perryville
Perry
23
4/1
Poplar Bluff
Butler
23
4/1
*Reports are from the NWS Cooperative Network
Table 1.
Preliminary data for April indicates below average precipitation with an annual statewide total of 3.39 inches, or 0.59 inches below the long-term average. It was the first drier than average month since November 2018, Figure 4, and second consecutive April with below average precipitation, Figure 5.
Regionally, wetter April conditions were reported across southeastern Missouri where 4-6 inches were common. A few pockets in northwestern, north central and west central Missouri experienced driest conditions with 1-2 inches observed.
An unusual mid-April snow event impacted portions of east central and northeastern Missouri during the morning of the 14th. Accumulations were generally light, 1-inch or less, and occurred mostly on elevated surfaces. Weather observers in Vandalia (Audrain County) and near Bowling Green (Pike County) reported snow depths of 2 and 3 inches, respectively.
A historic tornado outbreak impacted southwestern Missouri during the late afternoon and evening hours of April 30, Figure 6. The National Weather Service office in Springfield surveyed and documented 28 tornadoes in the region, Figure 7, making it the biggest 1-day outbreak since March 12, 2006, when 38 tornadoes touched down in Missouri. Fortunately, the majority of tornadoes were categorized on the lower end of the Enhanced Fujita scale (EF-0: 11 tornadoes, EF-1: 16 tornadoes). There was one EF-2 tornado that moved from Christian County into Greene County, with peak wind estimated at 134 mph. Numerous homes were damaged or destroyed by the tornado. No injuries or fatalities were attributed to the outbreak.
Heavy rainfall and flash flooding also occurred during the evening hours of April 30 across southwestern and south central Missouri with numerous reports of flooded creeks, streams and roads. One fatality was reported in Douglas County, near Ava, MO, when a camper was swept away by a nearby stream. Radar estimates and CoCoRaHS reports indicate 6-8 inches of rain fell during the extreme event across western Douglas County, Figure 8.
Historic Missouri River flooding in March continued impacting parts of northwestern Missouri through April. Some areas remained flooded and bottomlands are vulnerable to future events where levee systems had failed. Interstate 29, between St. Joseph and Omaha, remained closed through the end of April.
Unusually wet conditions and flooding continued impacting southeastern Missouri, especially in the Bootheel where more than 25-inches have been reported since January 1, Figure 9, and year-to-date surpluses are approaching a foot, Figure 10. Some of the highest Bootheel totals for the first quarter of the year are listed in Table 2. Similar wet periods were also reported in the region in 2008 and 2011. Numerous fields in the Bootheel were submerged during April, Figure 11.
January-April 2019 Precipitation Reports in the Missouri Bootheel (NWS coop and mesonet)
Location
County

Precip (in.)
1. Steele 6W
Pemiscot
29.93
2. Hornersville
Dunklin
28.41
3. Hayward (Lee Farm)
Pemiscot
28.24
4. Portageville (Delta Center)
Pemiscot
27.85
5. Poplar Bluff
Butler
27.68
6. Cardwell
Dunklin
27.51
Table 2.
According to the Missouri Agricultural Statistics Service, for the week ending April 28, corn planting was 45% complete, 10 percentage points behind the 5-year average. Stock water supplies were reported mostly adequate at 92%, but 72% of the hay supplies and other roughages were in short to very short supply. About half of the pastures were in fair condition. Topsoil and subsoil moisture supplies were mostly adequate to surplus statewide.
---
Jump to: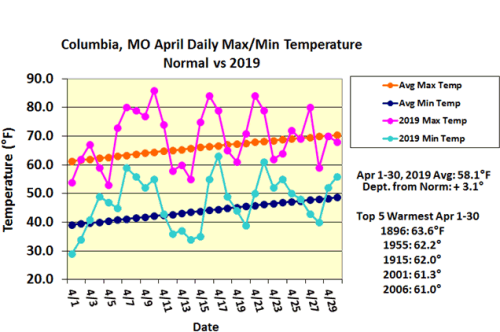 Figure 1.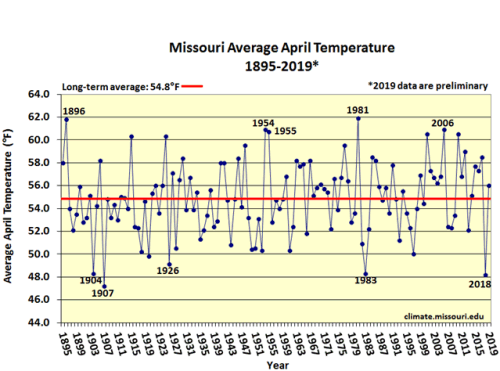 Figure 2.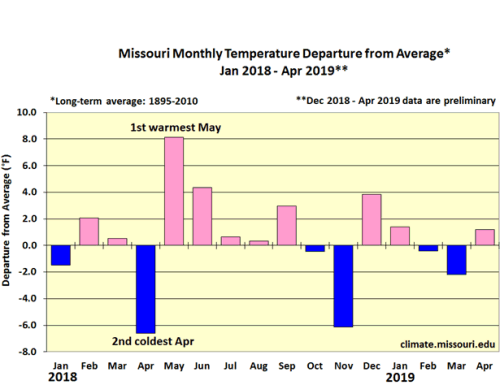 Figure 3.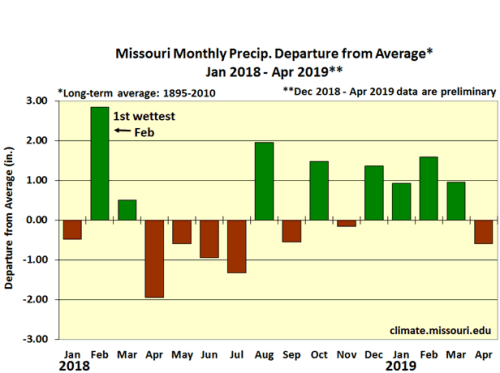 Figure 4.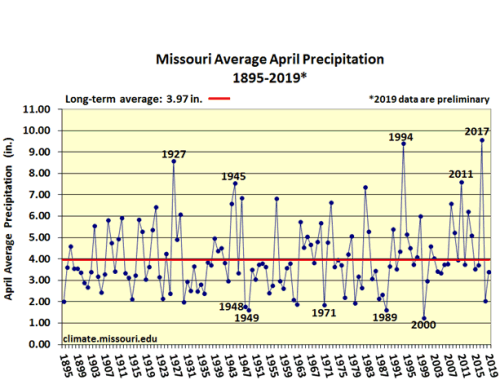 Figure 5.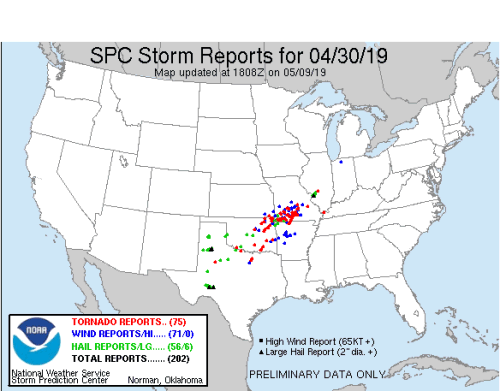 Figure 6.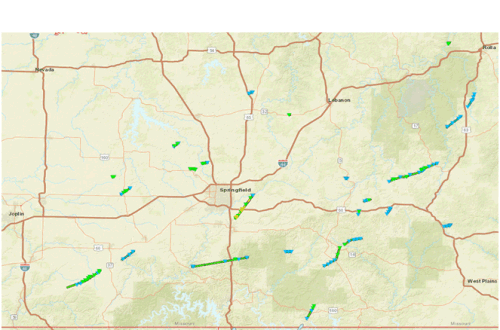 Figure 7. 28 tornado tracks, April 30, 2019. NWS-Springfield, MO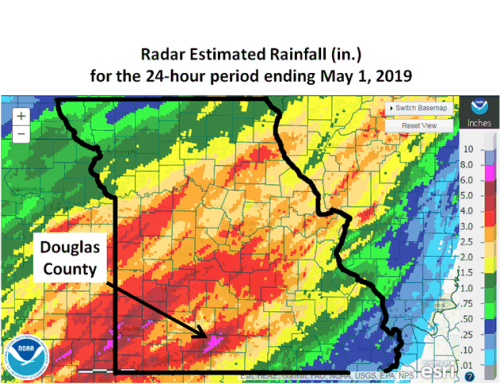 Figure 8. Flood fatality in Douglas County, Missouri where 6-8 inches were reported. The majority of heavy rainfall fell during evening of April 30, 2019.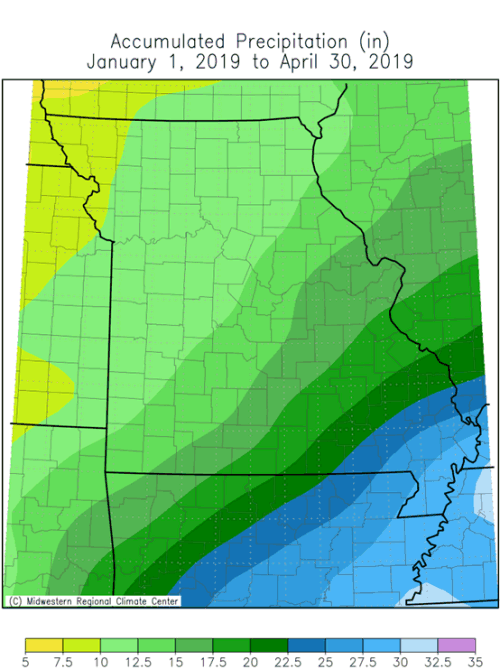 Figure 9.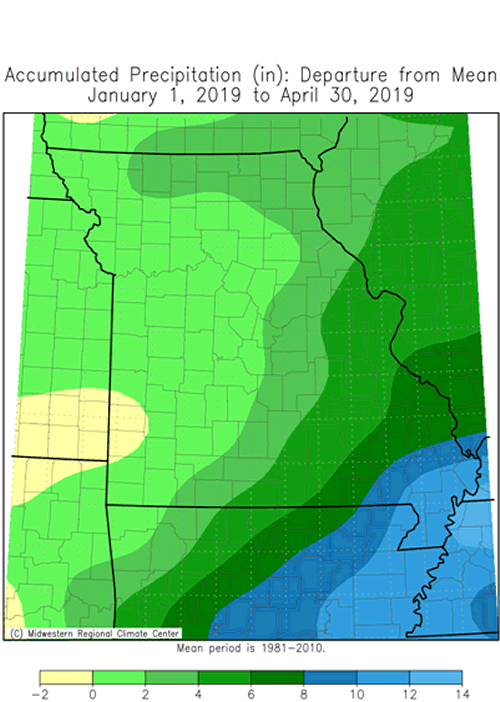 Figure 10.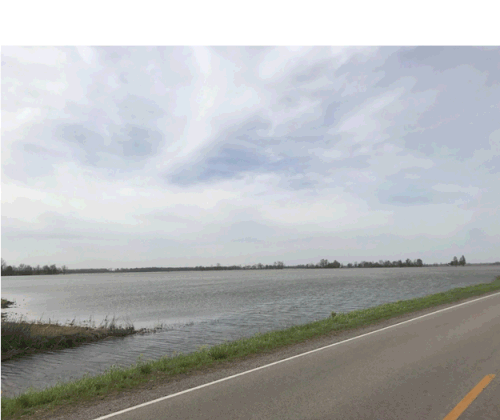 Figure 11.Mississippi County, MO (north of Charleston), photo: Anthony Ohmes, April 11, 2019.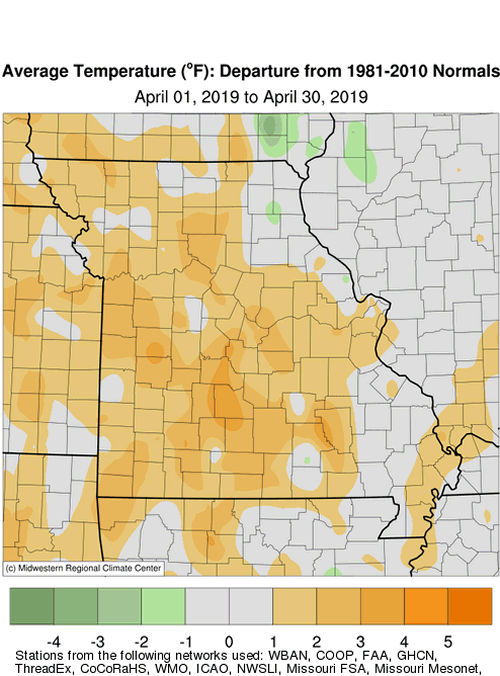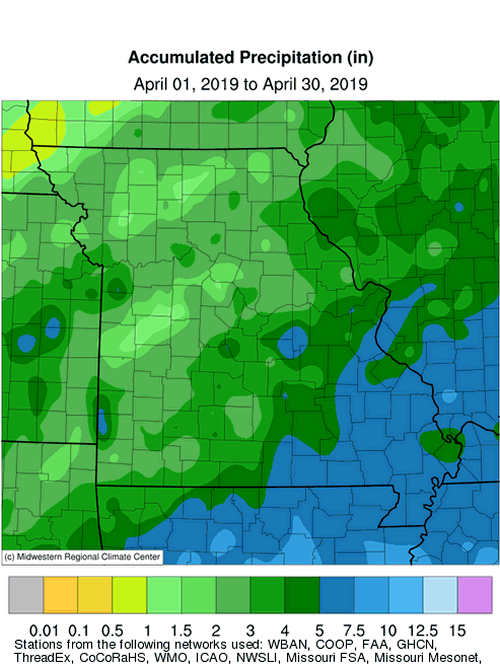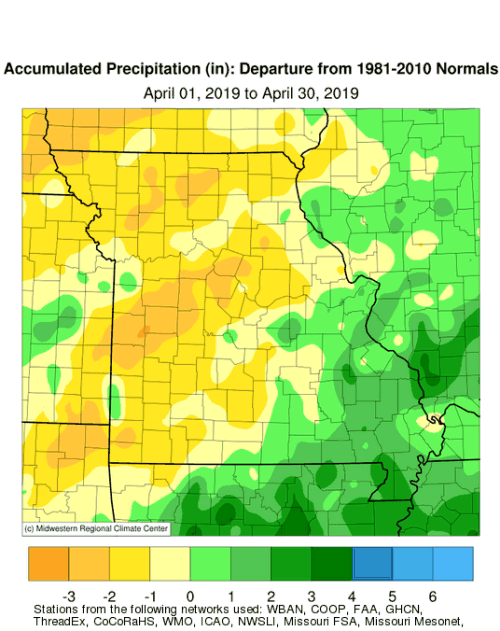 ---
Source: Pat Guinan, 573-882-5908