Rain slows corn planting
SE Missouri farmers hustle.
Linda Geist
Senior Information Specialist
University of Missouri Cooperative Media Group
May 13, 2015
COLUMBIA, Mo. - Wet weather has put a damper on corn planting this year in southeastern Missouri. Producers there are usually done planting corn by now.
Only 15 percent of the crop was in the ground by the end of April, says University of Missouri Extension specialist Bill Wiebold. But farmers move quickly when fields dry and they planted 78 percent of the corn in 14 days.
In 2011, rain in the Bootheel region delayed corn planting until late May or early June. Wiebold says that shows how intertwined weather and farming are.
Statewide, corn planting in 2015 is on target for the five-year average.
But more rain likely is on the way as part of an "unsettled" pattern that is a "dej... vu" of last week, said climatologist Pat Guinan of MU Extension's Commercial Agriculture Program.
Above-normal rainfall and temperatures will bring 1 to 2 inches of rain throughout most of Missouri, Guinan said.
Historically, May is the wettest month of the year. Last week brought "very good and welcome" rain to much of the state, Guinan said.
However, some areas received heavy rains. More than 5 inches of rain fell May 5-11 in Doniphan in Ripley County. The southwestern portion of the state received tractor-stopping rains, with 4.9 inches in Bates County, 4.71 inches in McDonald County and 4.66 inches in Stone County.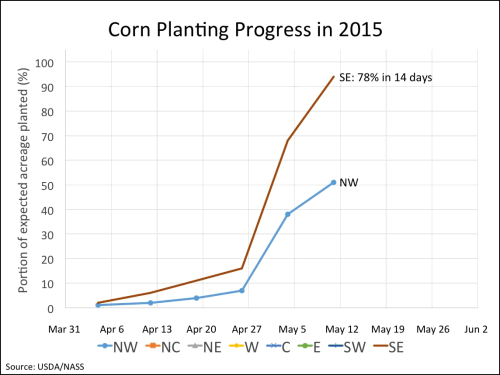 Corn planting progress in Missouri.
Photo credit: MU Extension
---
Source: William Wiebold, 573-673-4128 (cell); 573-882-0621