April 2014 Weather and Its Impacts on Missouri
Pat Guinan
State Climatologist
Commercial Agriculture/University of Missouri Extension
April temperatures in Missouri were near normal this year, Figure 1, but not indicative of the week to week variability that occurred, Figure 2. Roller coaster temperatures impacted the state with alternating periods of warm and cool weather. A late season moderate freeze impacted much of Missouri during the middle of the month, Figure 3, with some locations experiencing record cold minimums on the morning of the 15th, including Springfield (25°F), Joplin (25°F),Vichy-Rolla (26°F), and St. Joseph (23°F). Vegetative freeze injury was minimized due to dominant cool conditions in March and the first week of April.
For the first time this year, April precipitation averaged above normal with preliminary data indicating a statewide average total of just over 5 inches, or slightly more than 1-inch above normal, Figure 4. Rainfall, however, was variable with heaviest amounts confined to east central and southeastern sections where 6-8 inches were common. Totals ranging from 3-6 inches were typical across the rest of the state, with the exception of southwestern Missouri, where many locations reported less than 3 inches. According to CoCoRaHS reports, some counties reporting the highest April totals include Johnson (10.18"), Butler (10.19"), Oregon (10.21"), Ripley (10.40) and New Madrid (12.35"). Several long-term weather stations established "Top 10" wettest Aprils on record, Table 1. Alternatively, some of the lowest totals were confined to several southwestern counties, including Barton (1.66"), McDonald (1.60"), Lawrence (1.46"), Jasper (1.40") and Newton (1.33").
Widespread and significant precipitation events occurred during the first and last week of the month. The first event primarily impacted central Missouri from April 2-4. Many locations received 3-5 inches of rain, especially across east central sections. There were also localized reports of 6-7 inches, Figure 5. Much of the area had been experiencing long-term dryness and the heavy rain contributed greatly toward surface water recovery. Another extreme rain event impacted far southeastern Missouri on April 27-28 when a storm system deposited 5-8 inches of rain, much of it falling within a 24-hour period, Figure 6. Flood emergencies were declared in some communities with numerous reports of closed roads, flooded fields, and water in garages and basements. A Farm Service Agency CoCoRaHS observer from New Madrid, MO reported 8.48" inches of rain during the morning of April 28.
With the exception of southwestern Missouri, antecedent dry conditions had improved across parts of the state by the end of April, according to the Drought Monitor map, Figure 7. Moderate drought (D1) was no longer reported over central Missouri, but was expanded in some southwestern counties.
---
Jump to: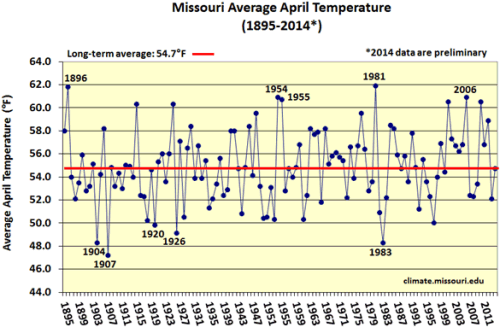 Figure 1.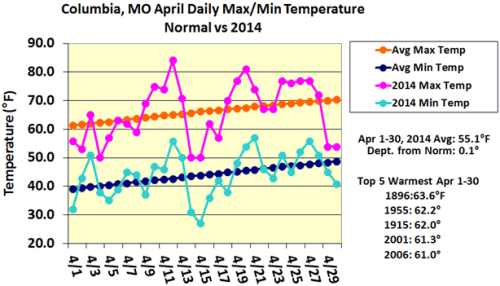 Figure 2.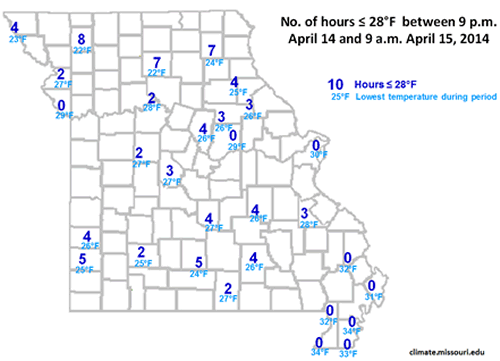 Figure 3.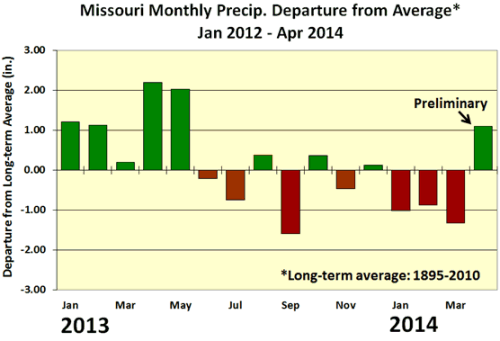 Figure 4.

Table 1. Wettest April rankings for some Missouri locations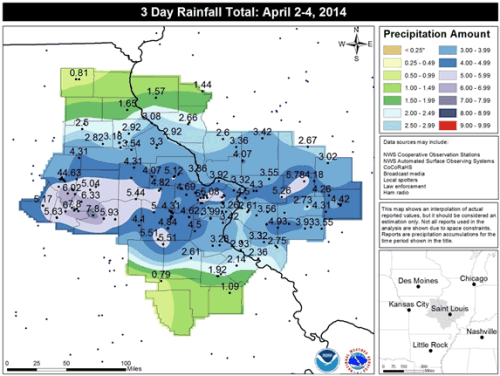 Figure 5. April 2-4, 2014 rainfall map. Source: NWS Forecast Office, St. Louis, MO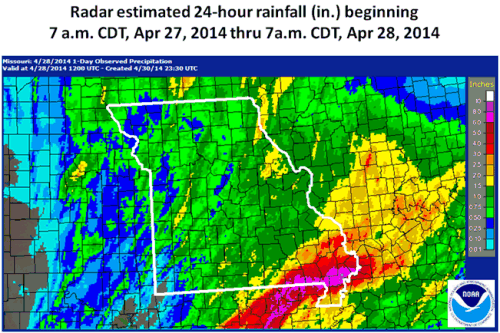 Figure 6.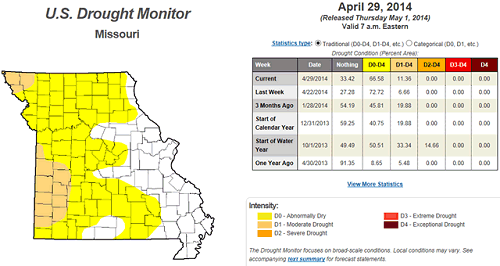 Figure 7. Missouri Drought Monitor map for April 29, 2014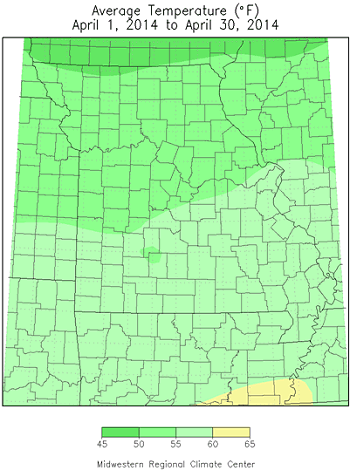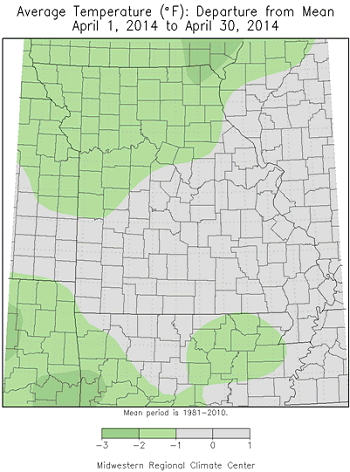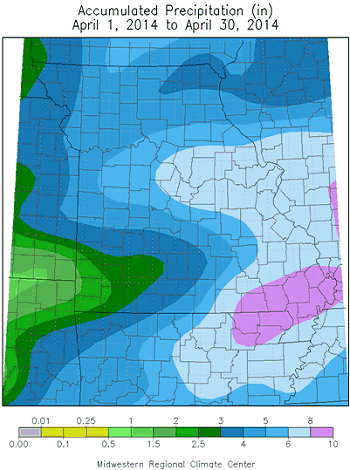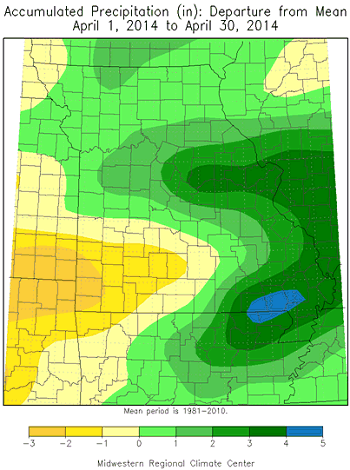 ---
Source: Pat Guinan, 573-882-5908