April 2013 Weather and Its Impacts on Missouri
Pat Guinan
State Climatologist
Commercial Agriculture/University of Missouri Extension
Preliminary data from Missouri indicated April temperatures averaged nearly 3 degrees below normal for the state, and ranked as the coolest April since 1997. It was a continuation of a cool weather pattern, contrary to the recent trend, where March and April combined to be the coolest start to meteorological spring in nearly 3 decades, or since 1984, Figure 1.
With the exception of a few warm days during the second week of April, and a handful of mild days thereafter, maximum and minimum temperatures remained mostly cooler than normal, and abruptly fluctuated from one extreme to another as contrasting air masses swept through the state, Figure 2.
April temperature anomalies varied across Missouri with largest departures found across northwestern sections, averaging more than 5 degrees F below normal. The below normal temperature departures were not as large traveling southeastward through the state, where southeastern sections averaged only 1-2 degrees below normal for the month.
The clash of air masses contributed to an unsettled weather pattern during April with numerous periods of showers and thunderstorms impacting the region, including an unusual snow event during the last week of the month.
Preliminary data indicated a statewide average monthly rainfall of 6.22 inches, making it the fourth consecutive month with above normal precipitation, Figure 3. Total statewide precipitation for the first quarter of the year was 16.54 inches, more than 5 inches above normal for the period, and the 7th wettest January through April on record, or since 1895. It was the wettest first quarter of the year since 2008.
Precipitation varied regionally with heaviest totals, ranging from 6-10 inches, reported over parts of southwestern Missouri and extending into central and northeastern sections. CoCoRaHS observers in Boone, Cole, Marion and Randolph counties reported the highest monthly totals of 9.09, 9.34, 10.20, and 10.42 inches, respectively. The lowest precipitation totals occurred over parts of northwestern and south central Missouri where 3-4 inches were reported. The Farm Service Agency office in Platte Co. reported only 3.08 inches for the month.
A notable and widespread heavy rain event impacted much of the Midwest during the middle of the month and resulted in flooding along several streams and rivers in the Upper Mississippi River watershed. Several inches of rain fell over a 48-hour period, on April 17-18, and contributed to major flooding along the Mississippi River, Figure 4. It was the worst early spring flooding along the Mississippi River, north of St. Louis, since 1973.
In addition to flooding, severe thunderstorms with 7 documented tornadoes impacted the state during the month. Five tornadoes were reported on April 10, impacting east central (St. Louis and Franklin Co.) and southeastern Missouri (Butler and Stoddard Co.), and two were documented on April 17 in Monroe County. The strongest tornado was classified as an EF-2 tornado (115-125 mph) and impacted the St. Louis county communities of Bridgeton, Hazelwood and Florissant. Residential, structural and tree damage were observed with this tornado, but there were no serious injuries reported.
An unusual spring snow event impacted parts of northwestern and west central Missouri during the early morning hours of April 24. Several locations reported totals ranging from a trace to 2 inches of snow. The communities of Grant City and Conception, in far northwestern Missouri, reported 1 and 2-inches of snow, respectively.
The cool, wet weather during the month delayed spring tillage and planting opportunities across the state. According to the Missouri Agricultural Statistics Service, spring tillage near the end of the month was 38% complete compared to the 5-year average of 56%. Only 15% of the corn crop had been planted and was more than 2 weeks behind normal. Topsoil and subsoil moisture conditions were mostly in adequate to surplus status.
---
Jump to: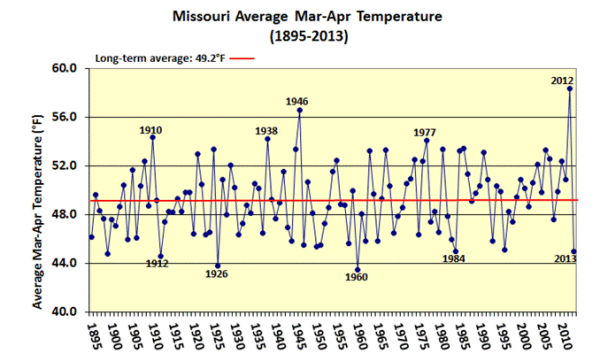 Figure 1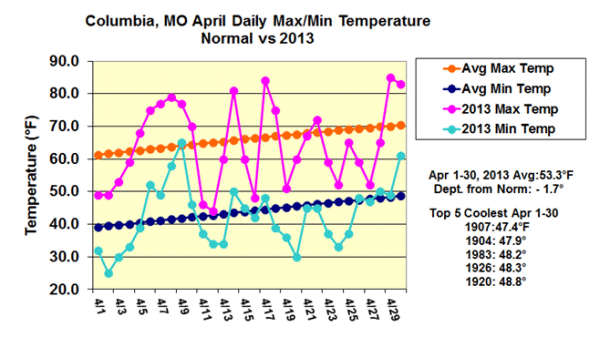 Figure 2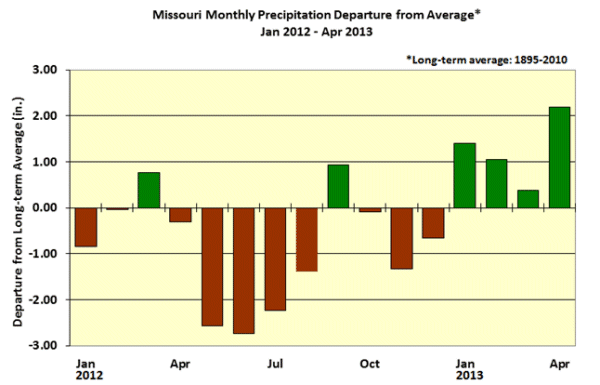 Figure 3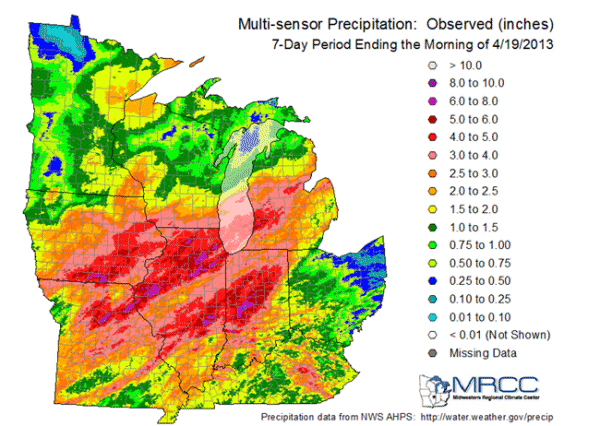 Figure 4