Wide temperature swings and too
little rain for Missouri in May.
Debbie Johnson
Senior Writer
University of Missouri Cooperative Media Group
June 09, 2014
To download broadcast-quality audio, go to http://radionews.missouri.edu.
Log in with the name of your news organization (password/registration not required).
COLUMBIA, Mo. - May temperatures were erratic, but overall it was a warmer than normal month.
"The average statewide temperature was about 66 degrees, which is a little over a degree and a half above normal," said Pat Guinan, climatologist for University of Missouri Extension's Commercial Agriculture Program. "What's hidden within that average was a lot of temperature swings throughout the month."
Record highs were set in Joplin and Springfield on May 4 and May 6 with temperatures in the 90s, Guinan said. Toward the middle of the month record lows were set. May 15-17 saw morning temperatures in the 30s in parts of the state, he said. "The coldest official temperature for May was reported in Kirksville and Round Spring, Missouri. Both had a low of 29 degrees."
It was cold enough to cause problems for some crops and landscape plants. Guinan says row crop damage was reported, as well as injury to sensitive garden and horticulture plants.
Precipitation was variable too. Typically, May is Missouri's wettest month, but this year it was drier than normal for most of the state.
"The preliminary precipitation total for May in Missouri saw a statewide average of just over 3 inches, but that's nearly 2 inches below normal," Guinan said.
Guinan said a weather system made rainfall in the state uneven. An upper-level system moved very slowly across the state from west to east. It gave day-to-day chances of late-morning and afternoon showers and thunderstorms. Unfortunately, many areas missed out on that precipitation.
Barry, Crawford and Taney counties saw more than 6 inches of rain, while Douglas and Bollinger had more than 7 inches. On the flip side, Jackson, Clay, Johnson, Carroll and Linn counties saw less than 1 inch of rain.
At the beginning of June, that slow-moving system was replaced by an unsettled pattern that brought with it more rain.
"These heavier rain events could lead to more flash-flooding problems, so we will need to keep an eye on this heavier precipitation as we move through June," Guinan said.
The outlook for June indicates above-normal precipitation for the month. As for temperature, there's much more uncertainty, with equal chances of above-normal, below-normal and normal average temperatures for the month.
For more information, see the Missouri Climate Center website at climate.missouri.edu.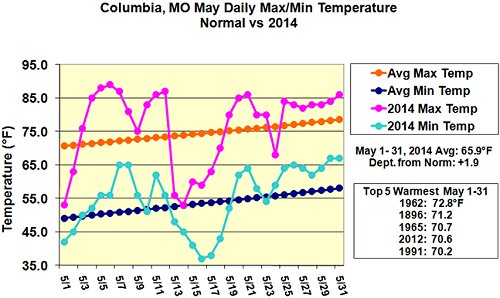 Maximum and minimum daily temperature graph.
Photo credit: Pat Guinan, climatologist for University of Missouri Extension Commercial Agriculture Program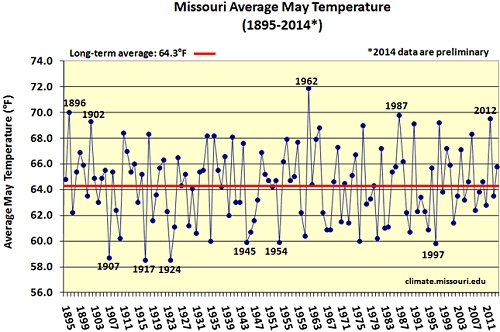 Missouri average May temperature.
Photo credit: Pat Guinan, climatologist for University of Missouri Extension Commercial Agriculture Program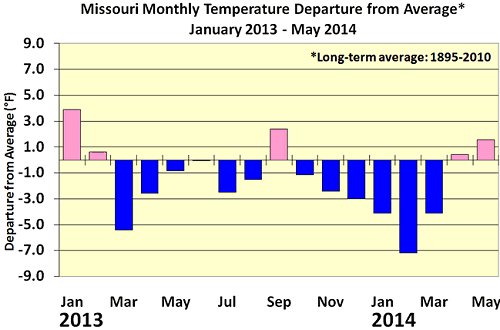 Missouri monthly temperatures.
Photo credit: Pat Guinan, climatologist for University of Missouri Extension Commercial Agriculture Program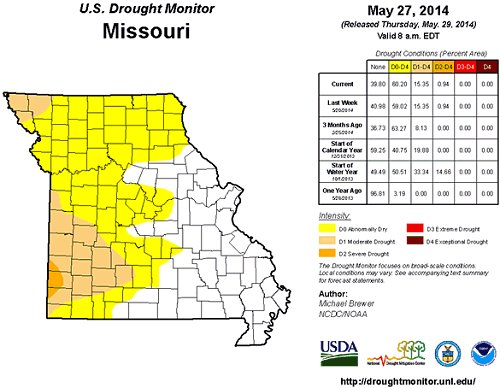 Missouri drought information.
Photo credit: U.S. Department of Agriculture
---
Source: Pat Guinan, 573-882-5908