June 2018 Weather and Its Impacts on Missouri
Pat Guinan
State Climatologist
University of Missouri Extension
Warm spring weather persisted into June for Missouri with preliminary data indicating a statewide average temperature of 77.4°F, or 4.4 degrees above the long-term average. It was the 8th warmest June on record and warmest June in 65 years (1953), Figure 1. Only four months since January 2017 have been cooler than average, Figure 2, and the May-June average temperature this year was the warmest on record, Figure 3.
Dryness intensified across Missouri during June with most of state reporting below normal rainfall. It was the 3rd consecutive month with below normal precipitation, Figure 4, and driest April thru June period since 2012, Figure 5. The statewide average rainfall total was 3.68 inches, nearly 1-inch below the long-term average. It was the third consecutive June with below average rainfall, Figure 6.
June precipitation was below average, but highly variable across Missouri. With few exceptions, significant precipitation events were scarce during the month. A few small pockets of above normal rainfall are indicated by radar estimates for the month, Figure 7. Some of the heaviest and lightest monthly totals are listed in Tables 1 and 2.
Highest June 2018 Rainfall (NWS Coop and CoCoRaHS reports)
Location
County

June 1-30
Rainfall (in.)
Ste. Genevieve 12.5WSW
Ste. Genevieve
8.89
Cape Girardeau 1.8SE
Cape Girardeau
8.73
Tecumseh 1NE
Ozark
8.48
Scott City 0.9E
Scott
8.24
Montauk State Park
Dent
7.94
Linn 0.8SE
Osage
7.84
Table 1.
Lowest June 2018 Rainfall (NWS Coop and CoCoRaHS reports)
Location
County

June 1-30
Rainfall (in.)
Emerald Beach 5.5E
Stone
0.93
Cassville
Barry
1.10
Republic 0.8SE
Greene
1.20
Keytesville 0.3E
Chariton
1.29
Elm
Johnson
1.38
Glasgow
Howard
1.43
Table 2.
Widespread significant rain events were minimal during the month, with the biggest 1-day event occurring on June 26th. Figure 8 indicates radar estimated rainfall for the 24-hour period ending 7:00 a.m. CDT, June 27. Numerous locations across central and southeastern Missouri reported more than 1-inch of rain. Localized higher totals, exceeding 3-inches, were found in St. Clair, Benton, Morgan, Miller, Cole, Osage, Boone, Callaway and Montgomery Counties. The highest daily total for the month came from a CoCoRaHS observer in Callaway County, where 5.23 inches was reported 3.2 miles NNW of Kingdom City on June 27. A highly localized heavy rain event impacted Ozark County during the beginning of the month with a NWS cooperative observer reporting 5-inches 1 mile northeast of Tecumseh on June 1.
Missouri drought intensified and expanded during the month with moderate to severe drought impacting much of the northern half of the state as well as moderate drought over far southwestern sections by the last week of June, Figure 9.
According to the Missouri Agricultural Statistics Service, for the week ending July 1, 52% and 53% of the topsoil and subsoil moisture supplies, respectively, were in short to very short condition in the state. Corn and soybean was rated mostly good at 45% and 43%, respectively. Pasture conditions were mostly fair at 42%, but 35% of the state reported poor to very poor pastures. The majority of hay and other roughages remained low, with 74% of the state reporting short to very short supply. Stock water supplies were mostly adequate at 69% but nearly a third of the state, 31%, reported short to very short supply.
---
Jump to: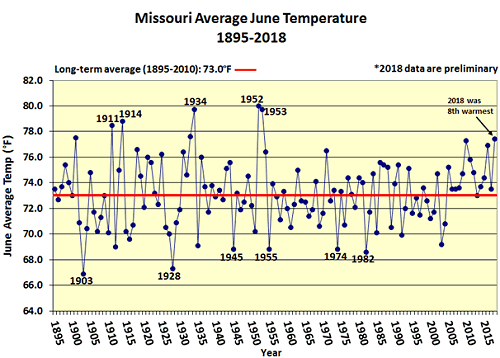 Figure 1.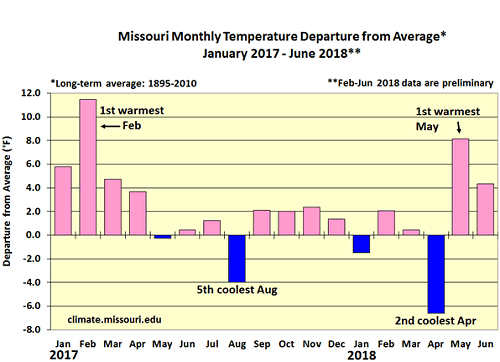 Figure 2.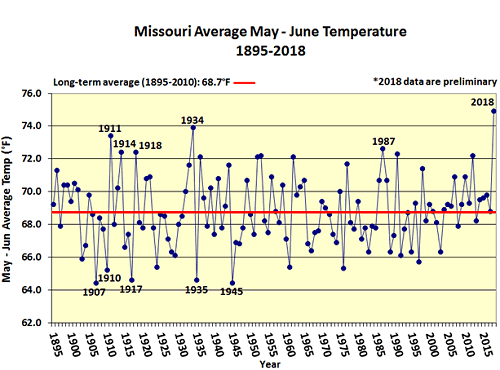 Figure 3.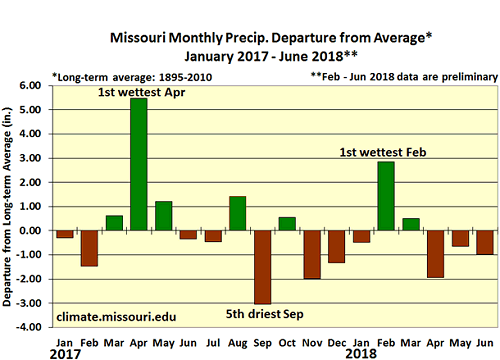 Figure 4.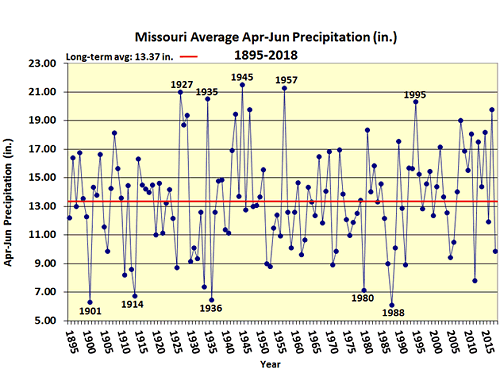 Figure 5.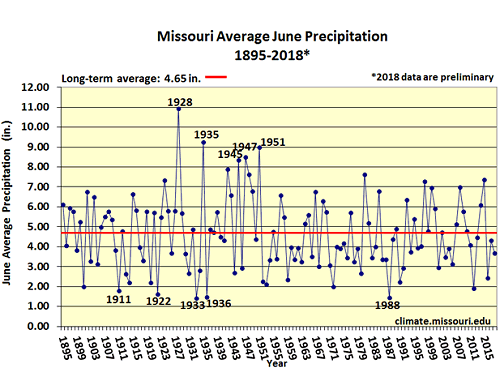 Figure 6.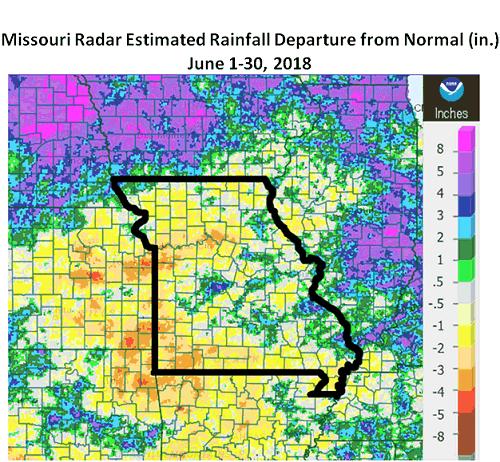 Figure 7.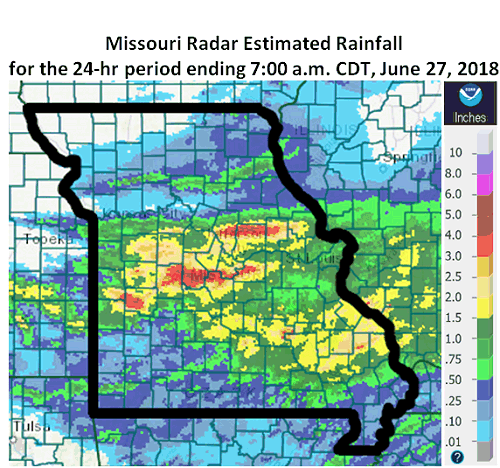 Figure 8.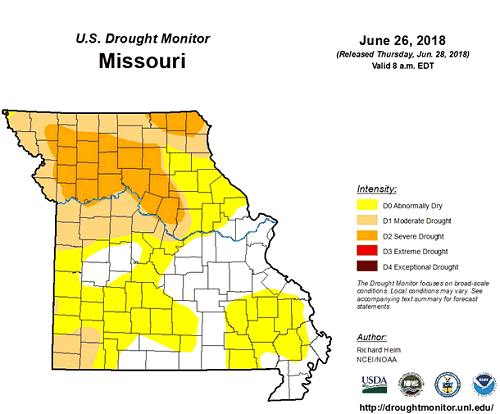 Figure 9.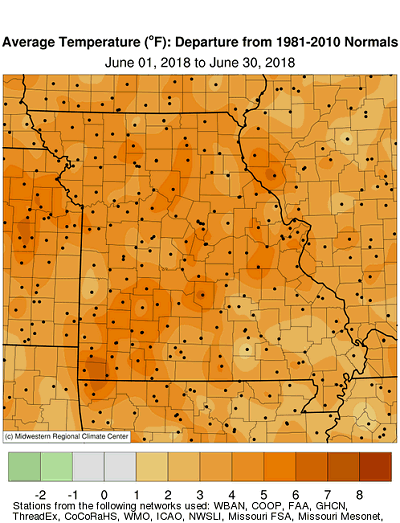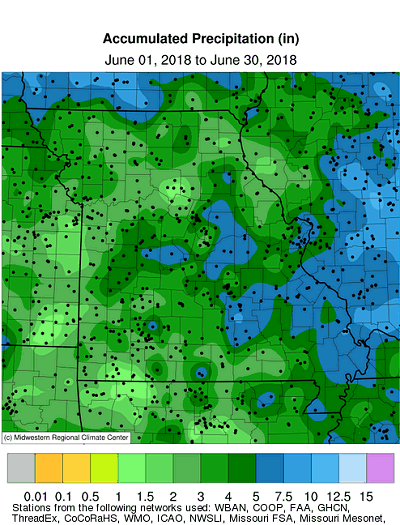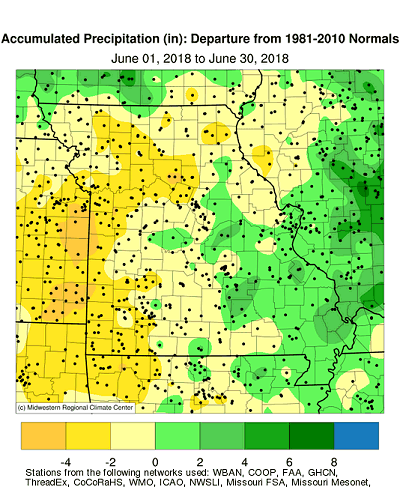 ---
Source: Pat Guinan, 573-882-5908