June 2017 Weather and Its Impacts on Missouri
Pat Guinan
State Climatologist
Commercial Agriculture/University of Missouri Extension
June weather conditions shifted notably in Missouri with a pattern change mid-month from warm and dry to cool and wet. The daily temperatures for Columbia are representative of the changing conditions statewide, Figure 1. Preliminary data indicate a statewide monthly average temperature of 73.4°F, or 0.4°F above the long-term average. The warmer than average month was similar to trend that has persisted since the fall of 2015, Figure 2. The last time Missouri experienced a cooler than average June was 2004, Figure 3.
Preliminary June precipitation data indicate a statewide average of 4.62 inches, or 0.03 below the long-term average. The month follows three consecutive wet months for the state, Figure 4, which was Missouri's 4th wettest spring on record. June rainfall trends in Missouri have been ambiguous over the past couple decades, Figure 5.
Rainfall was variable across the state with heaviest amounts reported across northern and western Missouri, where 4-7 inches were common. Lightest monthly totals, less than 4-inches, were typical over east central, south central and southeastern sections. Pockets of dryness, where less than 2-inches inches fell for the month, were located south and southwest of St. Louis, generally centered in Crawford and Washington counties. Highest rainfall totals were found in north central and northwestern Missouri where some counties reported more than 10-inches for the month. Figure 6 is a NOAA radar estimate of precipitation totals for June.
Extreme rain events impacted parts of northern and western Missouri toward the end of the month. The first event occurred during the evening and early morning hours of June 28-29 when severe thunderstorms developed from Atchison to Mercer counties. The storms initially brought reports of large hail, straight line wind damage and a few tornadoes, Figure 7. Crop damage from wind and hail were also reported, Figures 8 and 9.
As the evening progressed extremely intense rainfall was reported, especially across parts of Nodaway, Worth, Gentry, Harrison, Daviess, Grundy and Livingston counties, Figure 10. Major flash flooding occurred with numerous reports of road closures, flooded residences, and thousands of acres of submerged cropland. There were reports of water rescues but, fortunately, no casualties. A storm report from the National Weather Service indicated cows floating across highway 136 in Nodaway county. Flood pictures from the West Fork of the Grand River, in Gentry county, are shown in Figures 11-14.
A couple eyewitness accounts of the Jun 28-29 intense rain event include:
"...I had 13.5 inches of measured rain in that storm. Eight inches of it came in 45 minutes with the hail. My gauge was full and running over so we may have had more than 8 inches in the first 45 minutes but I measured total in 12 hours of 13.5 inches."
-Report from 1.5 miles north of Denver, MO, Worth county
"Gauge not big enough, 5 gallon bucket running over, bucket 14 inches so 14+ inches, do not know the exact amount"
-Report from CoCoRaHS observer residing 3.3 miles east-southeast of Parnell, MO, Worth county
Another wave of storms impacted parts of north central and west central Missouri later in the day on June 29 and into the morning of the 30th. Portions of Macon, Linn, Livingston, Chariton, Carroll, Saline, Lafayette, Clinton and Caldwell counties reported more than 5-inches. Heaviest rain gauge reports were from Saline and Chariton counties, Table 1.
June 29-30, 2017 Rainfall reports
(NWS Coop and CoCoRaHS reports)
Location*
County

May 1-31 Rainfall (in.)
Blackburn 3.0 NNE
Saline
8.91
Keytesville 0.3 E
Chariton
8.37
Salisbury
Chariton
7.83
Brunswick
Chariton
6.85
Marshall 1.0 NNW
Sa;ine
6.20
Table 1.
According to the Missouri Agricultural Statistics Service, for the week ending July 2, only 12% and 11% of the topsoil and subsoil moisture supplies, respectively, were in short to very short condition in the state. Corn was rated mostly good to excellent at 67%, and soy conditions were mostly good to excellent at 62%. Pasture conditions were in mostly good to excellent condition at 69%. The majority of hay and stock water supplies were adequate to surplus at 96%.
---
Jump to: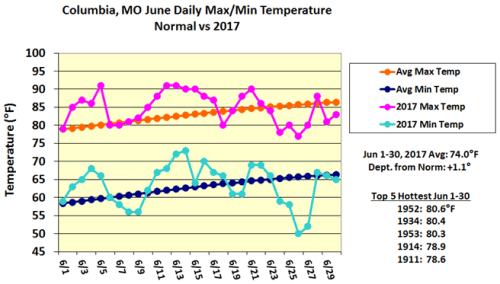 Figure 1.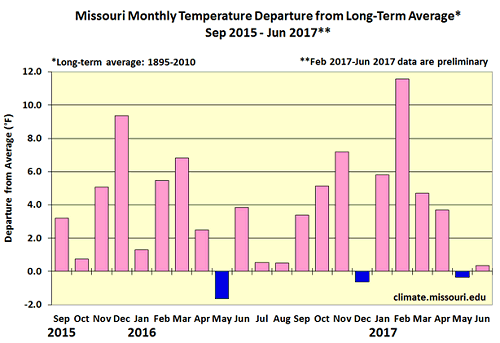 Figure 2.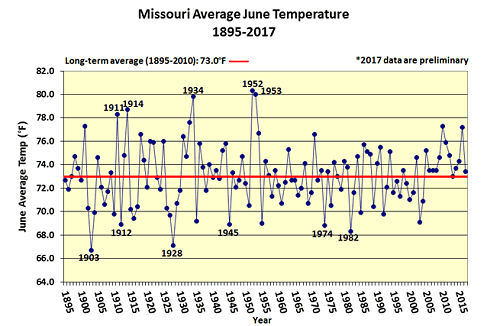 Figure 3.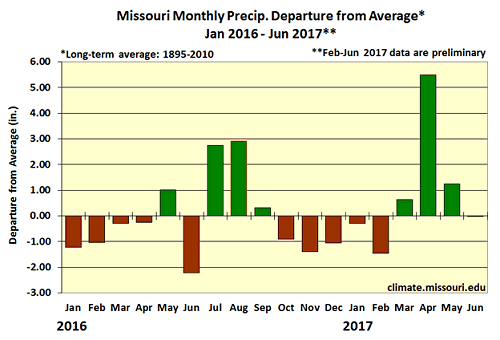 Figure 4.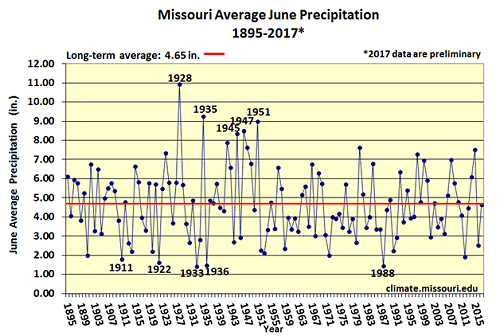 Figure 5.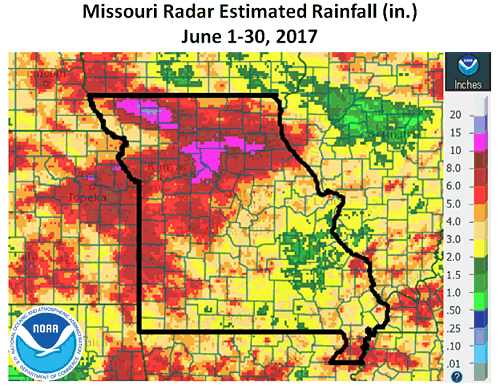 Figure 6.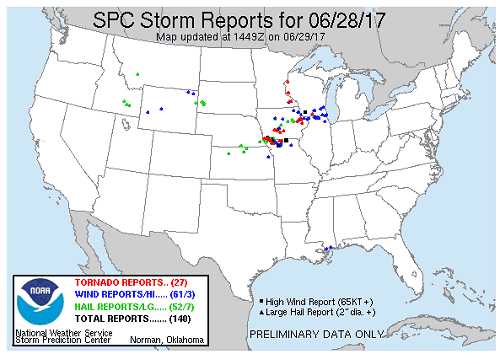 Figure 7. Source: Storm Prediction Center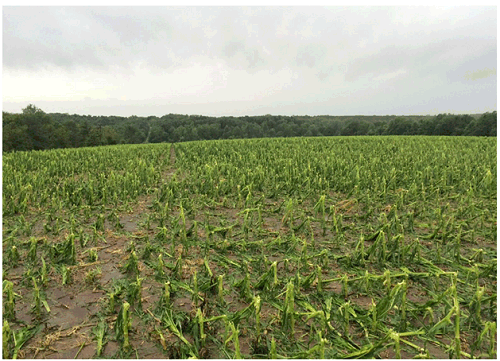 Figure 8. Wind and haill damage to corn near Denver, MO, Worth county, Photo: Paul Tracy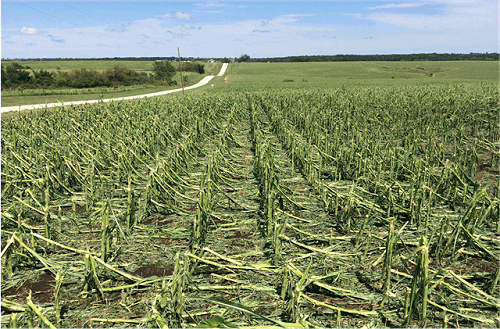 Figure 9. Wind and haill damage to corn near Denver, MO, Worth county, Photo: Paul Tracy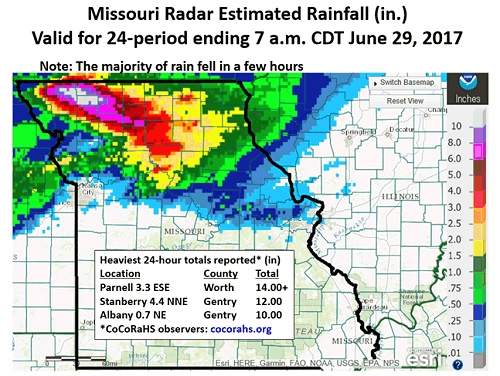 Figure 10.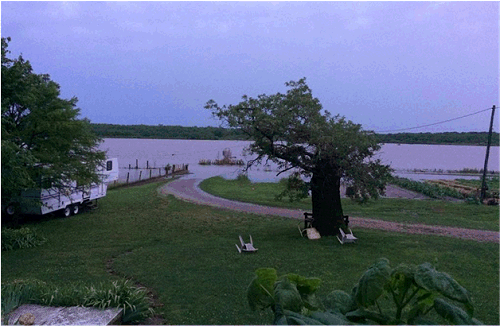 Figure 11. West Fork of Grand River, Gentry county, June 29, 2017.
Photo: Martin Showen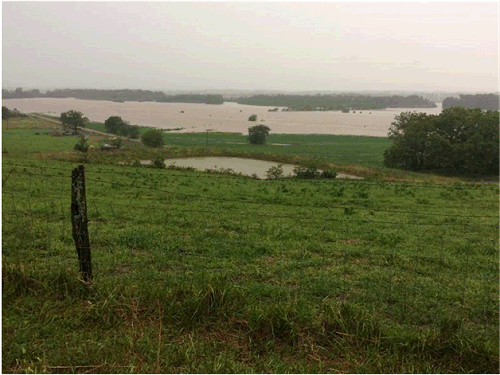 Figure 12. West Fork of Grand River, Gentry county, June 29, 2017.
Photo: Martin Showen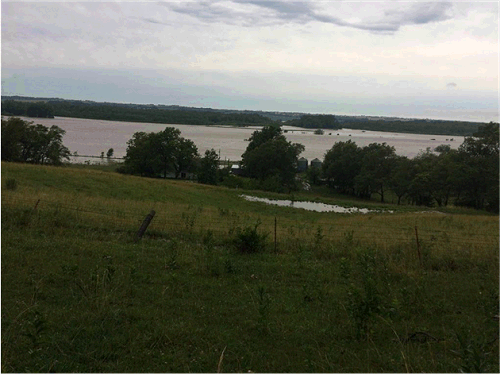 Figure 13. West Fork of Grand River, Gentry county, June 29, 2017.
Photo: Martin Showen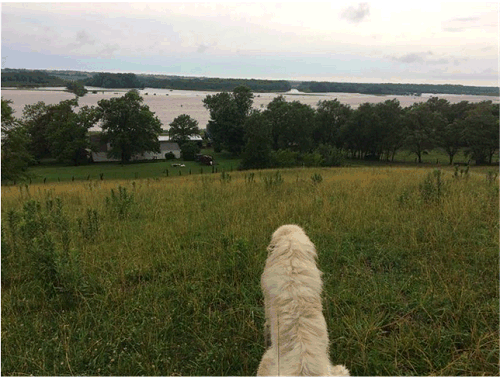 Figure 14. West Fork of Grand River, Gentry county, June 29, 2017.
Photo: Martin Showen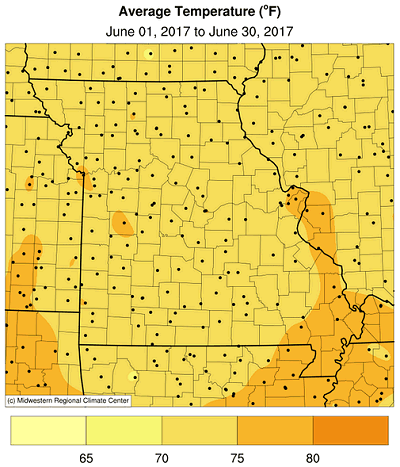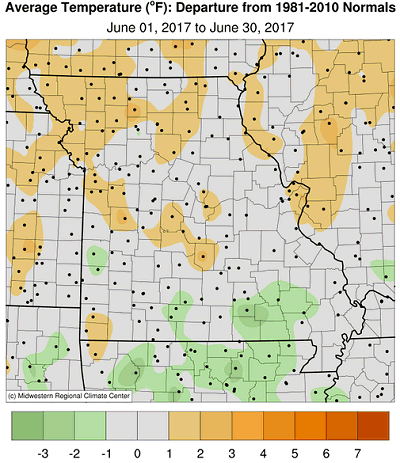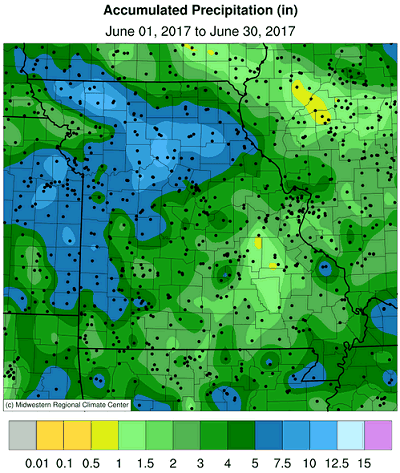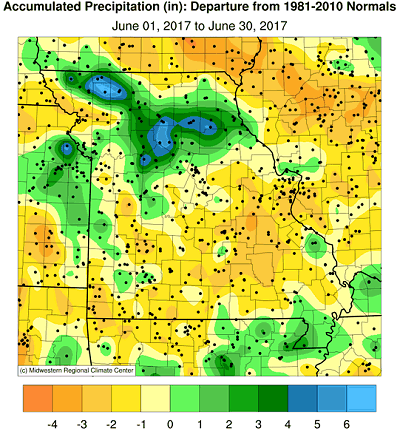 ---
Source: Pat Guinan, 573-882-5908