Missourians encouraged to report drought information online
By Michelle Proctor,
Senior Information Specialist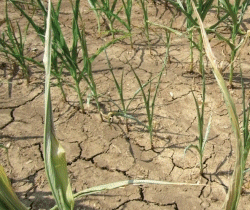 Corn crop near Hallsville, July 2012
Photo by Rex Ricketts
Pat Guinan, University of Missouri Extension climatologist with the Commercial Agriculture Program, wants Missourians to use the Drought Impact Reporter (DIR) as a way to inform decision makers of drought related impacts experienced across the state. The National Drought Mitigation Center (NDMC) in Lincoln, Nebraska has updated the online tool and rolled out a new user friendly version.
"By contributing information via http://droughtreporter.unl.edu/, Missourians can provide additional impact reports to the Drought Monitor authors, who will then use the information in their weekly drought depiction process," said Guinan.
Guinan is one of many participants who provide information to the authors of the NDMC's weekly Drought Monitor map. At the state level, it is a collaborative effort among state and federal agencies, professionals, the public, and climatologists from neighboring states.
"We do not determine drought categories for Missouri," said Guinan, "but we can provide suggestions, recommendations and impact information on what is happening in our state to the Drought Monitor authors."
Guinan said that there are no limitations on who can provide information or suggestions for depicting drought, or on the level of drought, in an area. "Anybody is welcome to participate with the DIR, the online tool available for private citizens to use," he said.
"In order to contribute impact reports, and provide local expertise to a Drought Monitor author, I highly encourage Missourians to use the Drought Impact Reporter tool. This information is seen by the Drought Monitor author, as well as the general public, and it becomes archived documentation for future authors to refer to," Guinan said.
Guinan believes that more participation and input from local Missourians will establish a consensus of opinions among folks in the state and hopefully provide a more accurate portrayal of drought in Missouri.
Kelly Helm Smith, communication and drought resources specialist, NDMC, asks that participants submit reports every month or even more frequently during drought. "Start and end dates are very helpful," Smith said. "Regular reporting would help establish the pattern that areport covers of conditions during a particular span of time." She assured that instructions are on the user form- http://public.droughtreporter.unl.edu/submitreport/
After information is submitted to the Drought Impact Reporter, they are termed reports and will be moderated and visible on the reports layer of the DIR. Smith said that a moderator may contact the contributor for more information. If the report contains information that meets the DIR's definition of an impact, the moderator will also record it as an impact and it will appear on the impacts layer of the Drought Impact Reporter.
A drought impact is defined as an observable loss or change that occurred at a specific place and time because of drought. All impacts are based on reports.
For example, the NDMC received the following user report with impact information:
"Major corn crop losses are occurring in Boone County, Missouri. The soybean crop is hanging on, but with each additional dry day, the yield potential declines. I spoke with a crop researcher yesterday, who has a field of corn she planted in early April. She thinks her best yield from this field will be 60 bu/acre and her later planted corn is a complete loss, i.e. no kernels on the ear. Her farm plots are located in Boone County, about 10 miles east-southeast of Columbia, MO."
Another example of a user report talks about a precipitation shortfall but does not include impact information: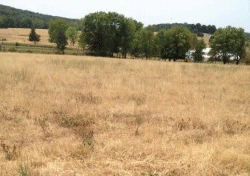 St. Francois Co., July 2012
Photo by Kendra Graham
"The last time we had more than one inch of rain was on May 7 when they got 1.84 inches. They have had a couple of smaller rains since then but it has been hot, dry and windy almost every day. Only 0.75 inches fell in June."
The following example of a user report speculates about an event that would be considered an impact. It is valuable because it points to the likely occurrence of an impact and shows a high level of drought awareness, but it is not an impact yet:
"Mandatory watering restrictions will be implemented in My City, USA, unless it rains a lot before Tuesday."
Reports come from media, users (i.e. anyone), CoCoRAHS observers, National Weather Service Drought Information Statements, state-aggregated burn bans and water restrictions,
and other summary reports compiled by agencies or organizations.
Reports and impacts are mapped separately. The default view of reports is to map them by point of origin with circles placed on the city or the county centroid. The default view of impacts is to map them by affected areas with shading down to the county level. This enables people to see whether drought-affected rural areas have local representation in the reporting process.
"This is why it is so important for locals to file reports with the NDMC using the online DIR tool," said Guinan. "No instrument or third party will be able to describe a drought situation as well as someone living in the area and experiencing the situation."
The Drought Impact Reporter was developed with funding from the National Oceanic and Atmospheric Administration (NOAA) and from the U.S. Department of Agriculture's Risk Management Agency.
---
Source: Pat Guinan, 573-882-5908