December 2012 Weather and Its Impacts on Missouri
Pat Guinan
State Climatologist
Commercial Agriculture/University of Missouri Extension
Above normal temperatures ruled across Missouri during December, with the statewide temperature averaging more than 4 degrees above normal for the month. Preliminary data indicate it was the 19th warmest December on record, and the mildest since 2006. The above normal temperature regime did not deviate from the annual trend, with 2012 being the warmest year on record for the state, Figure 1.
The statewide average December temperature was 37.6°F, with regional average temperatures ranging from 33-36°F across northern Missouri, 36-39°F in central sections and 39-42°F across the south. The Bootheel counties averaged 43-45°F for the month.
With few exceptions, December precipitation was below normal statewide. The statewide average was 1.85 inches, or more than 0.5 inches below normal. Western tier counties reported the lightest monthly totals, where less than 1-inch was common. There were also pockets of ≤ 1-inch over central, northwestern and some northeastern counties. Heaviest totals of 2-inches or more were located across south central and southeastern sections, generally southeast of line extending from St. Louis to Springfield, MO. Some CoCoRaHS observers in the northeastern tip of the state reported just over 2-inches for the month, which is above normal for December. Only a handful of counties in far southeastern sections reported more than 3-inches for the month, still below normal for the region. The drier than normal year-end conditions punctuated the annual theme, with 2012 being the driest year in Missouri since 1980, Figure 2.
Even though mild conditions dominated in December, there were some significant snow events to impact the state. Northern and central sections were on the southern end of a major winter storm that moved across Nebraska, Iowa and Wisconsin on December 19-20. Generally, 1-3 inches of snow fell across northern and central Missouri, with isolated heavier amounts of 4-5 inches reported between St. Joseph and Kansas City. Even though snowfall totals were mostly light across Missouri, the storm system created blizzard conditions, as winds gusted over 50 mph and visibilities approached zero in blowing snow. There were reports of numerous vehicle accidents and temporary road closures due to the hazardous travel conditions.
An unusual major winter storm impacted far southeastern Missouri on December 25-26, dropping 4-11 inches of snow over the area. Rain quickly changed to snow on Christmas night, and fell heavily through the morning hours of the 26th. The snow was accompanied by strong northerly winds, gusting from 35-45 mph, and creating blizzard-like conditions. There were isolated reports of thundersnow during the event. Another significant snow event impacted a larger portion of southeastern Missouri on December 28-29, dropping 1-5 inches of snow over the region.
Heaviest snowfall totals for the month were confined to southeastern Missouri where Poplar Bluff, Farmington, Lambert, Jackson, Belleview, Oates, Williamsville, Malden and Perryville reported 7-11 inches of snow. The highest total for the state came from a NWS cooperative observer in Qulin, MO, Butler County, who reported a whopping 14 inches for the month.
Numerous benefits were derived from the mild December weather regime including reductions in heating demand for housing, businesses and farm facilities. Exposed livestock also benefited from the mild weather. Even though year-end drought conditions had improved across most of Missouri by the end of the year, a complete recharge of water resources above and below the ground had not been realized. Winter is typically the dry season in Missouri and it is unlikely water supplies, above and below the ground, will fully recover for the start of next year's growing season. Significant long-term precipitation deficits remain and little to no recovery of surface water supplies was noted in many locations at the end of the year.
The highest likelihood for hydrological drought to persist through the rest of winter is across northwestern Missouri, which typically receives 2-3 inches of precipitation between January and February-not nearly enough to make up for a year-end precipitation deficit of more than a foot. Southeastern sections of Missouri have better chances for drought recovery this winter, considering recent precipitation events and where heavier winter precipitation typically occurs, compared to the rest of the state.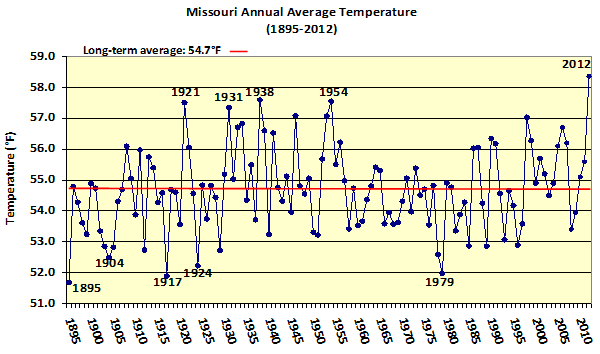 Figure 1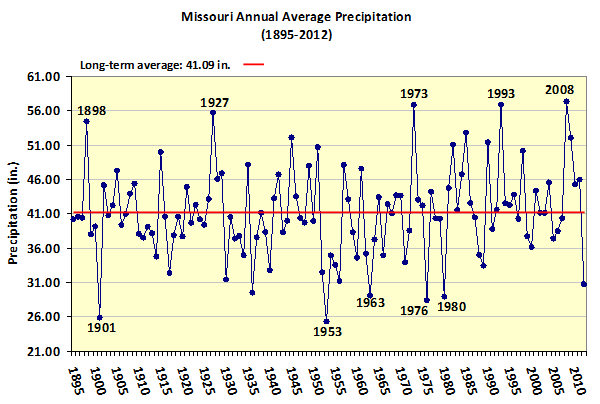 Figure 2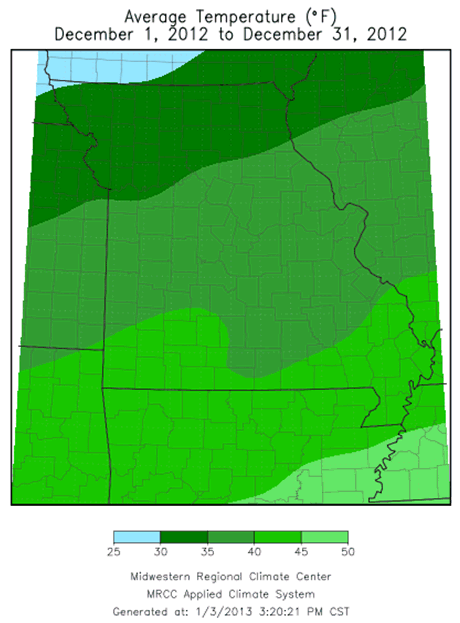 Figure 3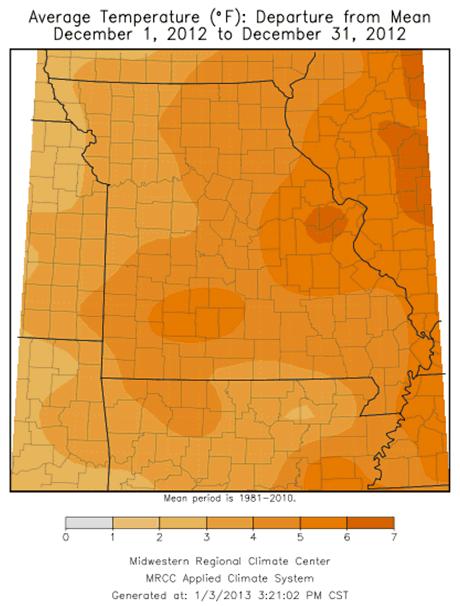 Figure 4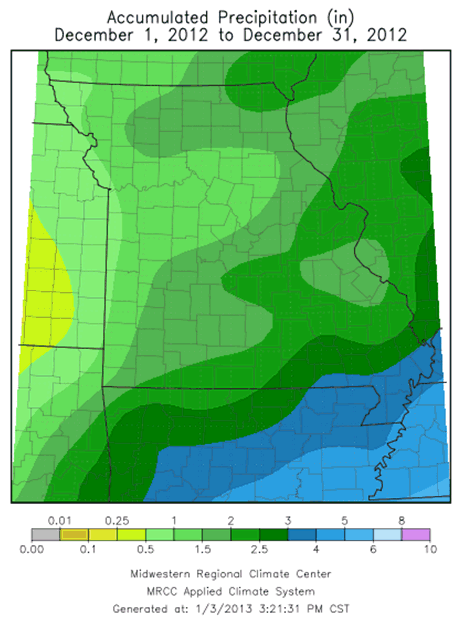 Figure 5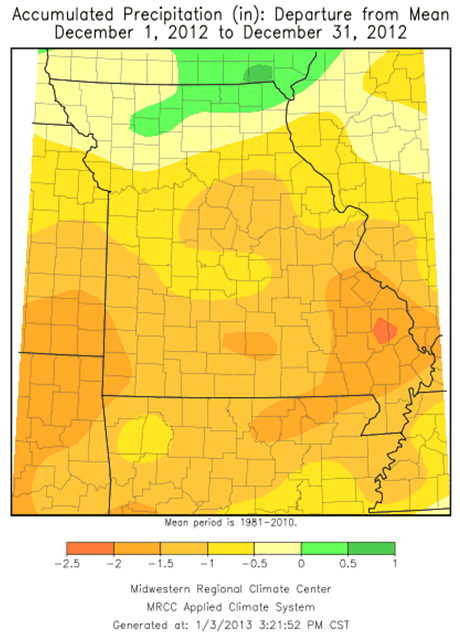 Figure 6