January 2018 Weather and Its Impacts on Missouri
Pat Guinan
State Climatologist
Commercial Agriculture/University of Missouri Extension
The recurring theme this winter for Missouri has been large temperature fluctuations, from periods of below normal temperatures to several days with mild weather. A fluctuating jet stream was the culprit for the "roller coaster" weather pattern. In Missouri, cold temperatures during the first half of January transitioned to warmer conditions during the latter half of the month, Figure 1. Preliminary data indicate the average statewide temperature for January was 28.0°F, or 1.6 degrees below normal. It was only the third month out the past thirteen to average below normal, Figure 2, and it was the first colder than average January in four years, Figure 3.
Arctic air dominated for the first half of the month, with coldest temperatures during the first few days of January, and for a couple days mid-month. Some record lows were established, including Columbia (-5°F on Jan 2), St. Joseph (-14°F on Jan 1 and 2), Joplin (-2° on Jan 1), Vichy-Rolla (-8°F on Jan 2), and West Plains (-1°F on Jan 1 and -2°F on Jan 2). Some of the coldest temperatures occurred across far northern Missouri, where a snow blanket enhanced the cold, Table 1. With the exception of far southeastern Missouri, most locations dipped below zero.
The frigid period translated to higher than usual energy consumption and stressful conditions for outdoor workers, exposed livestock and pets. Some ranchers dealt with chopping ice for livestock due to frozen ponds. The extended period of subfreezing temperatures, combined with little or no snowpack, and dry soils contributed toward an unusually deep frost line. Shifting soils due to the dry conditions, in combination with a deep frost line, resulted in numerous reports of frozen pipes and broken water lines for homes and livestock operations.
The much warmer conditions during the latter half of the month led to a January thaw. There were several locations across the southern half of the state that climbed into the lower 70s on January 21.
January 2018 Minimum Daily Temperature
Location*
County

Min Temp (°F)
Date

Downing
Schuyler
-22
2
Unionville
Putnam
-20
1
Albany
Gentry
-19
1
Green City 5N
Sullivan
-19
2
Princeton
Mercer
-19
3
Memphis
Scotland
-19
3
*NWS Cooperative network and Missouri Mesonet
Table 1.
Preliminary precipitation data indicated a statewide average of 1.6 inches, a little more than 0.5 inches below normal, and the 5th consecutive dry start to a year, Figure 4. It was the third consecutive month with below normal precipitation, Figure 5, and the driest Nov-Jan in more than 40 years, Figure 6.
Most of northern and west central Missouri reported less than 1.5 inches for the month. Generally, the rest of the state observed 1.5-2.5 inches. Heaviest totals were confined to extreme south central sections, and the Bootheel, where 2.5 to 3.0 inches were common. Monthly extremes ranged from less than 0.5 inches in some far northwestern counties to just over 3-inches in parts of Douglas, Taney and Ozark counties.
The biggest precipitation event occurred on January 22 when the southeastern half of Missouri received 0.5-1.5 inches or rain, Figure 7. The rain was welcome considering much of the state has been experiencing a multi-month dry spell. According to the U.S. Drought Monitor, nearly 2/3 of Missouri was in some category of drought at the end of January, Figure 8.
Driest conditions in the state were impacting east central, south central and southeastern Missouri, where some locations have been experiencing dryness since early last summer and precipitation deficits have exceed a foot. Crawford and Washington counties, in east central sections, are pretty much ground zero for Missouri when it comes to the longevity of dryness, and the precipitation deficit that has accumulated. For example, an official NWS weather station, outside of Potosi, reported 13.24 inches from Jun 1, 2017 thru Jan 31, 2018. This represents an 8-month deficit of more than 15 inches, or 53% of normal for the period. Similar deficits have accumulated around the St. Louis metropolitan area.
Other pockets of notable precipitation deficits are impacting northern Missouri. Dryness in northwestern Missouri is localized, but intense. An area bounded from Atchison County, southeastward to Daviess and Caldwell Counties, and westward to Buchanan County missed some notable rain events last year.
Here are some notable drought impacts provided by extension specialists from east central, southeast and south central Missouri. Many of these impacts were submitted last fall and have persisted into the winter. Some of the impacts also apply to drier locations across northern Missouri.
- Producers were feeding hay due to minimal fall grass growth and little to no hay cuttings;
- Some producers were moving cattle or hauling water because of low or empty ponds, or little to no flow in creeks and springs, and in some locations it is worse than it was during the winter of 2012-13.
- Since many farmers are feeding hay earlier than usual, they culled their herds to reduce the amount of animals that will need feed through the winter;
- Unusually low well levels; some have gone dry;
- Producers have been forced to feed lower quality hay and cows will be in poorer condition coming out of the winter, which may reduce future calf crop numbers;
- An unusual number of grass fires have been reported this winter.
If precipitation remains below normal for the rest of winter, and we enter the growing season with dry conditions, some fast emerging impacts will occur. Soil moisture reserves have not recharged and continued dryness will lead to vegetative drought stress as plants come out of dormancy and evaporative demand increases. The good news is we still have several weeks of winter and there is time for notable improvement if a wetter weather pattern emerges. Climatologically, southeast Missouri has the best chance for drought recovery during the cold season.
Frozen precipitation events were scarce in January, with one notable snow event impacting parts of far southwestern Missouri on Jan 15-16, when 3-6 inches were reported. Overall, snowfall amounts were generally light during the month, which has been the trend, so far, for the 2017-18 winter season.
---
Jump to: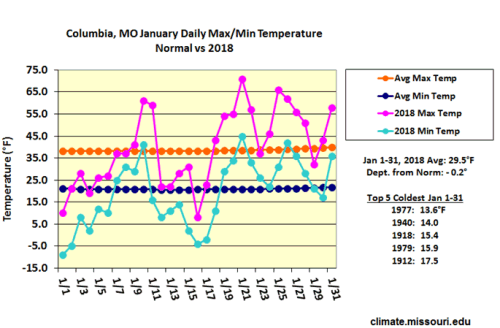 Figure 1.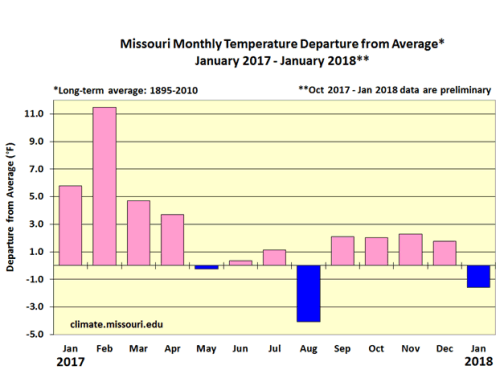 Figure 2.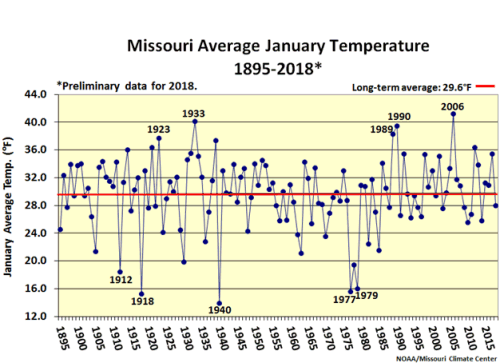 Figure 3.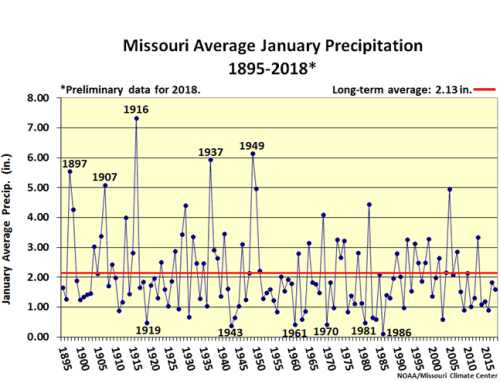 Figure 4.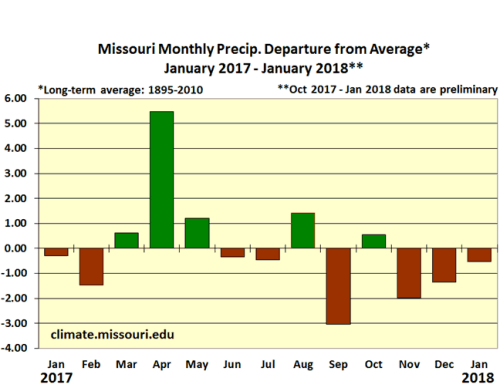 Figure 5.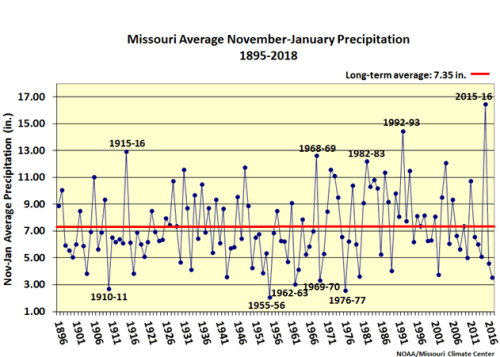 Figure 6.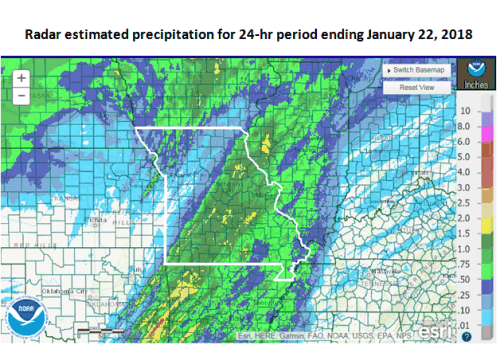 Figure 7.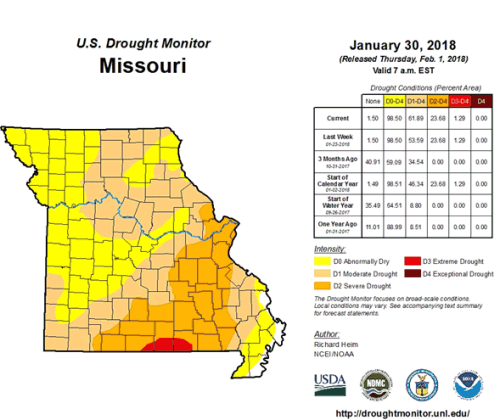 Figure 8.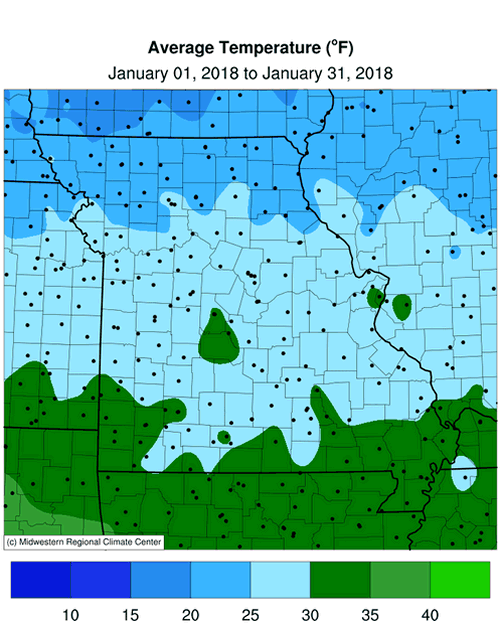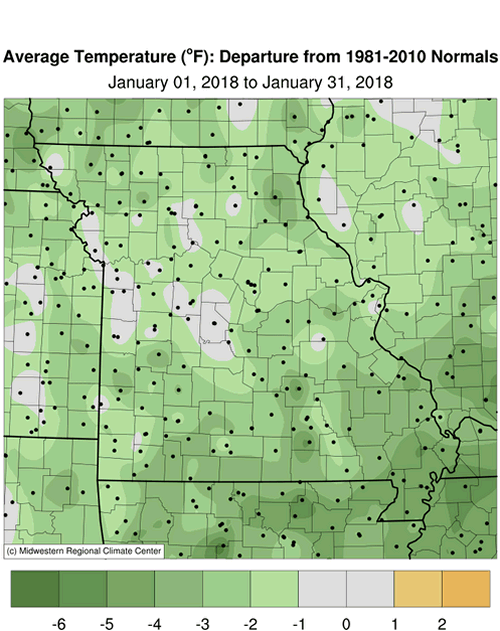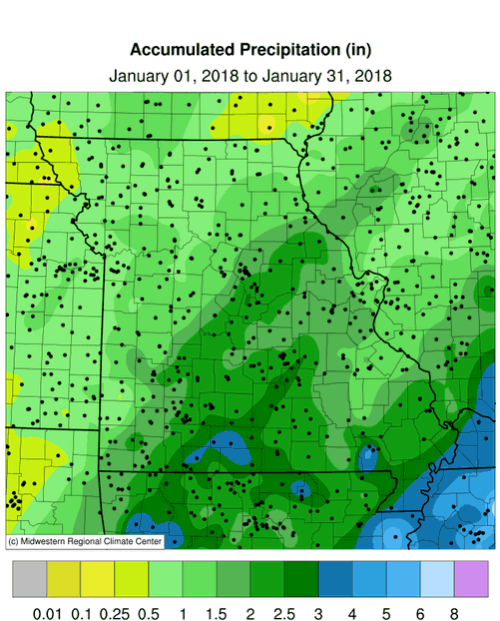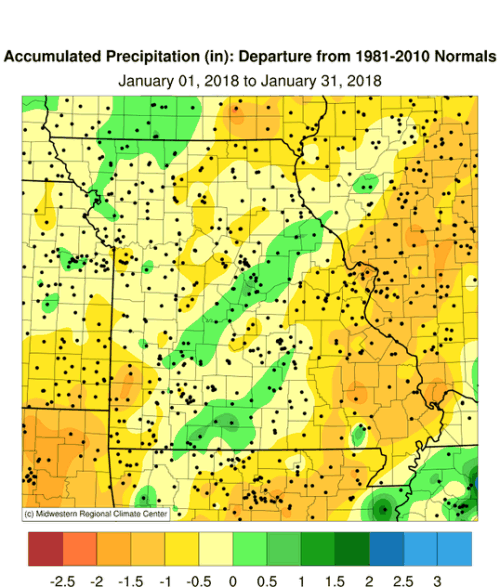 ---
Source: Pat Guinan, 573-882-5908