Below-normal temperatures for November,
Arctic air for December
Debbie Johnson
Senior Writer
University of Missouri Cooperative Media Group
December 09, 2013
To download broadcast-quality audio, go to http://radionews.missouri.edu.
Log in with the name of your news organization (password/registration not required).
Podcast: http://www.radiodeege.com/Podcasts/.
COLUMBIA, Mo. - Missouri got a chilly December gift from Canada after a November that continued a below-normal trend for 2013.
"It went along with the trend we've seen this year," said Pat Guinan, climatologist for University of Missouri Extension's Commercial Agriculture Program. "November temperatures were nearly 3 degrees below normal. Only January, February and September had temperature averages above normal."
The statewide precipitation average was also below normal at 2.6 inches, Guinan said, but there were regional differences.
"We saw 1-3 inches of rain across northern to central sections of Missouri," Guinan said. "South central to southeast Missouri saw 3-5 inches. Parts of Bollinger, Wayne, Butler and Cape Girardeau counties had over 5 inches."
East central and northwestern Missouri saw the least amount of rain, with less than an inch in some areas, Guinan said, leaving those areas in a moderate drought. He says a bit more rain or snow is needed to recharge moisture in parts of the state.
Guinan said it looks likely that December will continue 2013's below-normal trend.
"Over the next couple of weeks cold air is expected to continue spilling out of Canada into the middle part of the country," Guinan said. "Northern and central Missouri may dodge the current winter-storm bullet, but southern sections will likely see a winter weather impact."
You can thank the jet stream, which has dipped deep down into the U.S., for bringing frigid air from Canada.
"The jet stream keeps the cold air to the north, warm air to the south," Guinan said.
Several days of sub-freezing temperatures lead to thin ice on smaller lakes and ponds in parts of the state for an extended period. Guinan says that's unusual for November.
According to the National Weather Service, 72 tornadoes touched down in seven states between Nov. 17 and Nov. 21. That was the fourth-largest tornado outbreak on record in the U.S.
Guinan said Missouri was on the western edge of that outbreak, with two documented tornadoes in Scott and Perry counties. No injuries were reported with either tornado.
For more weather information, visit the Missouri Climate Center website at www.climate.missouri.edu.
NWS storm reports for Nov. 17
Photo credit: National Weather Service Storm Prediction Center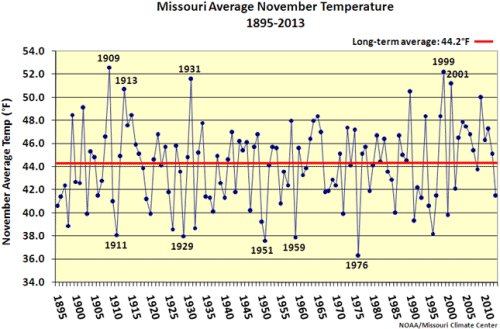 Missouri average temperatures in November, 1895-2013
Photo credit: Pat Guinan
---
Source: Pat Guinan, 573-882-5908