Sweater weather in July
Debbie Johnson
Senior Writer
University of Missouri Cooperative Media Group
To download broadcast-quality audio, go to http://radionews.missouri.edu.
Log in with the name of your news organization (password/registration not required).
August 7, 2014
COLUMBIA, Mo. - The jet stream brought Canadian air into the Midwest during July, along with record-setting temperatures.
"It's going to come very close to, and maybe beating, July of 2009, which would make it the second-coolest July on record," said Pat Guinan, climatologist for University of Missouri Extension's Commercial Agriculture Program.
According to Guinan, the preliminary numbers show last month's average statewide temperature was 72.7 F, which is nearly 5 degrees below normal. He says the July 2009 average was 72.8 F, so they are very close. July 1950 is the coolest on record.
"Any time in the summertime when you have monthly departures of 5 degrees or higher, that's a notable thing," Guinan said.
"According to the National Weather Service weather stations, the lowest temperature for the month was 45 F in Conception, Missouri, in Nodaway County on July 4, and Salem, Missouri, in Dent County on July 17," he said.
For 2014, January through July ranks as the coolest seven-month period in 35 years, or since January-July 1979.
While July stayed on course with the year-and-a-half trend of a below-normal monthly temperatures, low precipitation continued the overall dry pattern that started last summer.
"We've only had a handful of months that have been above normal in the precipitation category," Guinan said. "There are parts of the state that are running of deficit of a foot or more since last summer."
Of course, there were regional differences in precipitation, he said.
"Northern parts of the state saw averages of 3-4 inches of rain in July, with localized parts of northeast Missouri going above 6 and even as much as 8 inches of rain for the month," Guinan said.
East central Missouri around St. Louis was very dry, Guinan said. Some areas picked up less than an inch of rain for the entire month of July. The I-44 corridor down into south central Missouri saw very little rain as well.
Lack of moisture in parts of the Show-Me State could create dire conditions for crops, lawns and gardens, but the cool weather helped keep drought problems at a minimum.
"In regard to agriculture, it's been very nice having a cool summer here in Missouri because that has lessened the vegetative stress," Guinan said. "Cooler temperatures mean lower evaporation rates."
For the homeowner, the cool July has meant lower energy bills because less air conditioning was needed.
For more information, go to the Missouri Climate Center website at http://climate.missouri.edu.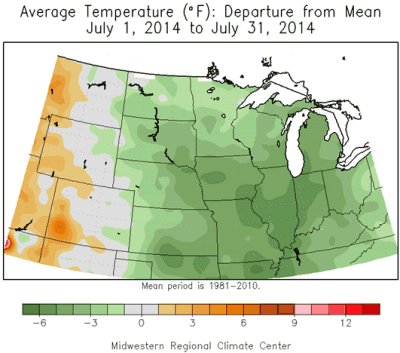 Average Temperature (°F): Departure from Mean, July 1 - July 31, 2014.
Photo credit: Pat Guinan, Climatologist for University of Missouri Extension's Commercial Agriculture Program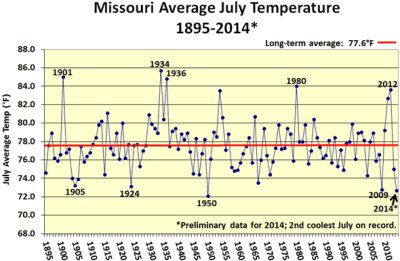 Missouri Average July Temperature, 1895 - 2014*
Photo credit: Pat Guinan, Climatologist for University of Missouri Extension's Commercial Agriculture Program
---
Source: Pat Guinan, 573-882-5908