Wet conditions delay corn planting in much of the state
Linda Geist
Senior Information Specialist
University of Missouri Cooperative Media Group
April 21, 2015
COLUMBIA, Mo. - "Farmers are just waiting for it to dry out," says Richard DeLoughery, University of Missouri Extension specialist in Charleston, Mo.
Wet soil foiled farmers' attempts to get into the field across most of Missouri last week, according to reports from MU Extension's weekly agronomy teleconference on April 21.
According to the April 20 USDA crop progress report, only 8 percent of the corn crop is in the ground, compared to 24 percent this time last year and a five-year average of 30 percent.
Planting is 22 percent complete in southwestern Missouri, but only 3 percent complete in south central fields and 4 percent in the northwest.
Bill Wiebold, MU Extension crop specialist, says wetness in southeastern Missouri may cause some yield loss for corn. However, farmers in central and northern Missouri should experience little or no yield loss unless planting is delayed past May 1.
"Planting in cold, wet soils reduces seedling emergence and increases risk of soil compaction," Wiebold says. "Soil compaction limits root growth, and a healthy root system is key to withstanding hot, dry spells during summer."
Pat Guinan, climatologist for the MU Extension Commercial Agriculture Program, said that 0.5-1.5 inches of rain fell over much of the state during the past week, with locally heavier totals.
The outlook for planting is dim for the rest of the week. Bare-soil temperatures dipped into the 40s in mid-Missouri by the morning of April 21. Patchy frost is expected the next two mornings over parts of northern Missouri, with the potential for significant statewide rainfall to begin on Friday, April 24.
For more weather information, visit the Missouri Climate Center website at www.climate.missouri.edu.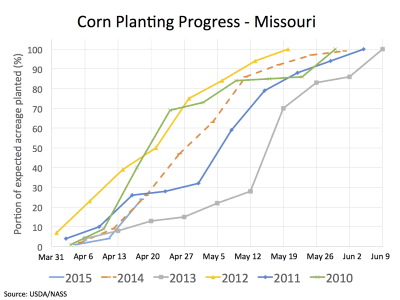 Corn planting progress in Missouri.
Photo credit: USDA/NASS
---
Source: William Wiebold, 573-673-4128 (cell); 573-882-0621