March 2015 Weather and Its Impacts on Missouri
Pat Guinan
State Climatologist
Commercial Agriculture/University of Missouri Extension
The statewide average temperature for Missouri averaged slightly above normal for March according to preliminary data. The average temperature was 44.3°F, which is 0.7° above the long-term average, Figure 1. Temperature departures varied regionally, from 1-3 degrees above normal across northwestern sections to 1-3 degrees below normal over far southeastern Missouri. Cold temperatures dominated during the first week of March but transitioned to nearly two weeks of mild weather. Alternating periods of cool and mild weather occurred during the rest of the month, Figure 2. Seven out of the past 10 Marches in Missouri have averaged warmer than normal, Figure 3.
Clear skies, calm wind and a deep blanket of snow maximized radiational cooling over far southeastern Missouri during the morning hours of March 6th and resulted in unusually low temperatures, Table 1. Cape Girardeau Airport has temperature records extending to 1961 and broke an all-time low temperature record for the month of March when the mercury dipped to -8°F on March 6th. Single digit and sub-zero temperatures are unusual for the Missouri Bootheel, and for it to occur in March is especially notable.
March precipitation was variable across the state but averaged near normal statewide with preliminary data indicating a statewide average of 3.27 inches, or 0.01 inches below the long-term average, Figure 4. Amounts increased notably from north to south with near to below normal precipitation generally north and west of I-44 and above normal across the rest of the state.
Totals ranged from less than 1-inch across extreme north central and northeastern sections, 1-2 inches over northwestern and west central Missouri, 2-3 inches in central and east central portions and greater than 3-inches across the southern third of Missouri. Heaviest precipitation fell across southeastern sections and southern border counties where more than 6 inches were common. Highest totals were reported in Cape Girardeau, Bollinger, Scott, Wayne, Stoddard, Ripley, Butler, Douglas and Taney counties where 8 inches to locally more than 9 inches were reported.
The most notable winter event impacted the southern half of Missouri on March 4-5 when rain turned to freezing rain, sleet and snow. Light amounts impacted central sections but heavier totals occurred over southern Missouri, especially southeast of line from Ozark to Perry counties, where 5-9 inches were reported, Figure 5.
According to the Drought Monitor map for March 31, 2015, abnormally dry conditions existed over parts of west central, southwest and extreme northeastern Missouri, Figure 6.
The median last spring frost date is defined as the day after which there is a 50 percent chance of a light killing frost (≤ 32°F). Typically, the last spring frost occurs over northern and central Missouri by April 20 and April 10, respectively. Frosts are more likely to be experienced later in the spring over the Ozarks when compared to central Missouri. The reason for this is due to the higher elevation of the Ozark Plateau which causes cooler temperatures in the Ozark region than would be expected. In fact, some counties in the Ozarks normally do not experience their last frost until the end of April. As the Ozark Plateau transitions to the southeastern lowlands of the Bootheel, the median last spring frost retreats to the first week of April.
Table 1. Minimum temperatures in far southeastern Missouri on March 6, 2015
Location
County
Min Temp. (°F)
Cape Girardeau Municipal Airport
Scott
-8°
Delta
Cape Girardeau
-4°
Charleston Airport
Mississippi
-1°
Perryville Water Plant
Perry
0°
Malden Municipal Airport
Dunklin
1°
Portageville-Lee Farm
Pemiscot
1°
Steele
Pemiscot
1°
---
Jump to: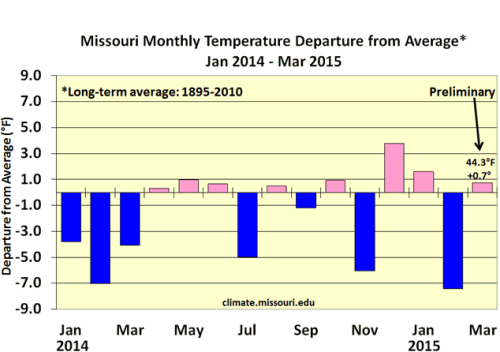 Figure 1.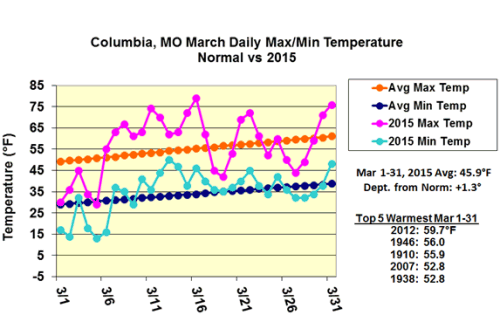 Figure 2.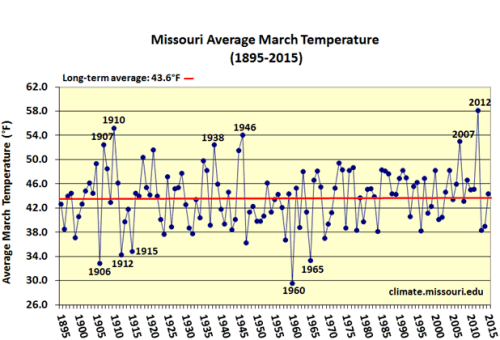 Figure 3.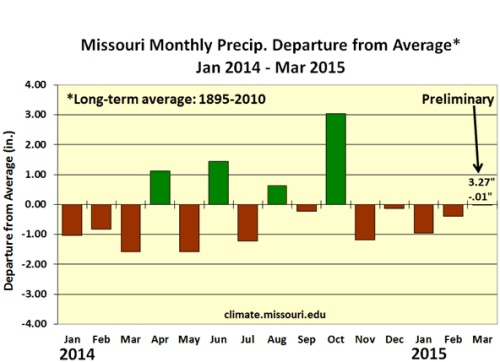 Figure 4.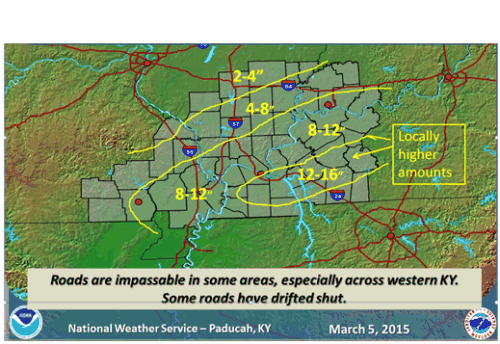 Figure 5.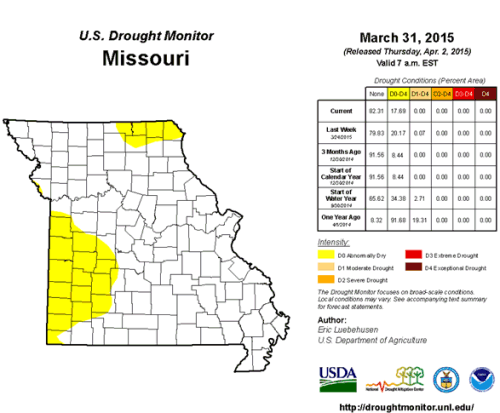 Figure 6. Missouri Drought Monitor map for March 31, 2015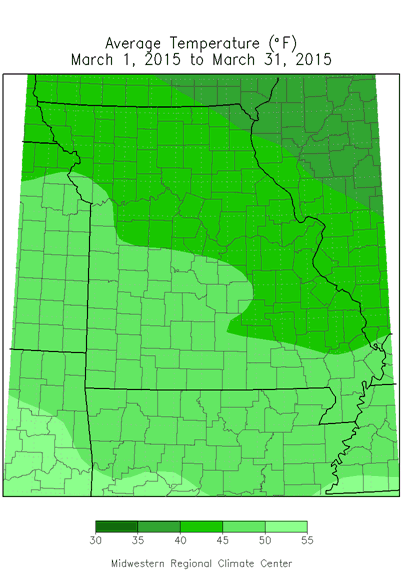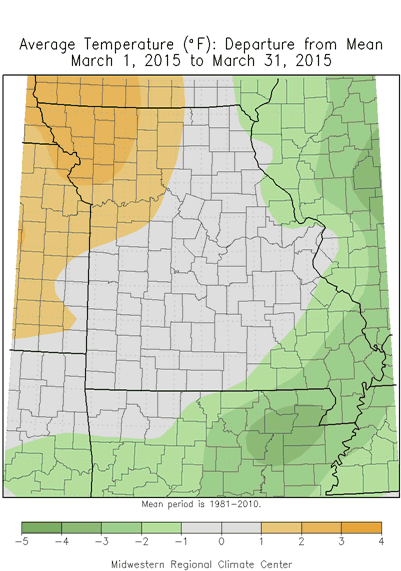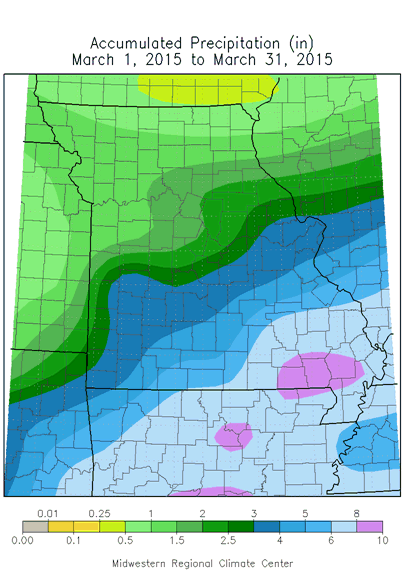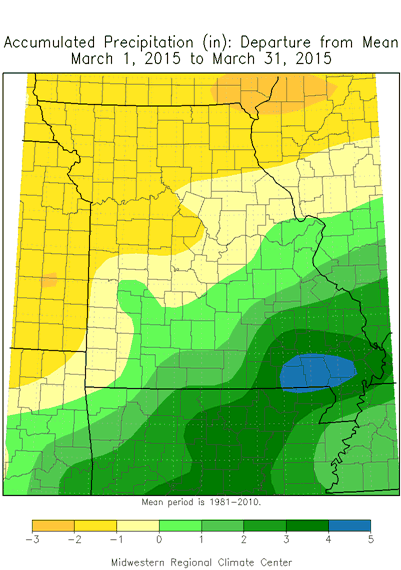 ---
Source: Pat Guinan, 573-882-5908