No lamb for March April showers are here.
Debbie Johnson
Senior Writer
University of Missouri Cooperative Media Group
April 14, 2014
To download broadcast-quality audio, go to http://radionews.missouri.edu.
Log in with the name of your news organization (password/registration not required).
Podcast: http://www.radiodeege.com/Podcasts.
COLUMBIA, Mo. - The lamb forgot to show up in March, which followed the long-term trend of cool weather and was on the heels of our 10th-coldest winter on record.
"Going all the way back to last spring, we've only had one month that was warmer than normal, and that was last September," said Pat Guinan, climatologist for University of Missouri Extension.
Guinan says an Arctic blast during the first week of March brought record low temperatures to many locations. He says parts of northern Missouri saw double-digit below-zero lows.
"There was a day in March when the high temperature never climbed above the single digits in several locations," he said. "That's very unusual when you talk about the month of March. Kansas City had a high temperature of 5 degrees. That shattered the previous all-time low maximum temperature record for March, which was 11 degrees in 1978."
March's low temperatures limited severe storm activity, Guinan said. While severe weather can occur at any time of the year, the storm season typically runs March to June, when climatology indicates approximately 70 percent of tornadoes occur.
You just don't get severe storm outbreaks when it's cold, he said. However, there were a few days of mild temperatures, which did bring tornadoes.
"We had three tornadoes touch down in northwest Missouri around Daviess and Grundy counties during the last week of March," Guinan said. "Now that we're in April, I would expect storm activity to ramp up."
Below normal was the trend for March precipitation. Guinan says the early numbers show a statewide average of just below 2 inches, which is more than an inch below normal. There were regional differences.
"Southern parts of the state picked up the heaviest amounts of rain, with 2-4 inches of precipitation. Those numbers decreased as you moved northward through the state," Guinan said.
Northwestern and west-central Missouri saw less than an inch of rain, Guinan said. This added to the drought conditions in these areas that have accumulated since last summer.
April appears to be shifting the below-normal precipitation trend.
"Fortunately, as we rolled into April we saw wetter conditions. That makes sense because spring is typically a wetter season in Missouri," Guinan said. "The 2-6 inches of rain that fell across the central part of the state helped to mitigate some of the drought conditions."
April is trending toward being another cooler-than-normal month. As for precipitation, it's looking stormier and wetter.
So, while March's lion roared for nearly all 31 days, the lamb frolicked into April with milder temperatures and much-needed showers for those promised flowers.
For more information, go to the Missouri Climate Center website at www.climate.missouri.edu.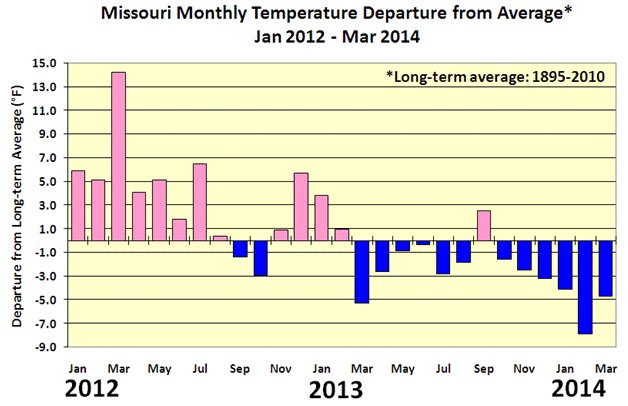 Fourteen-month temperature averages.
Photo credit: Pat Guinan, climatologist for University of Missouri Extension Commercial Agriculture Program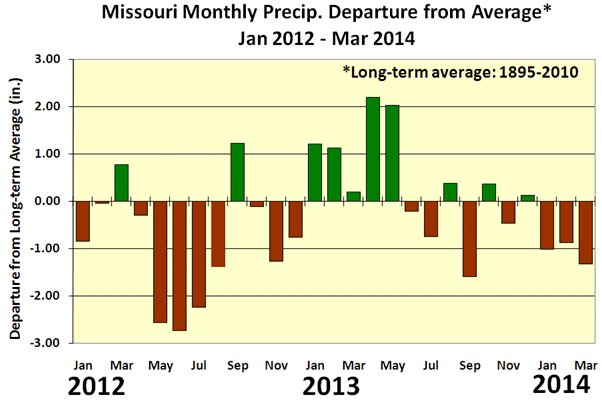 Fourteen-month precipitation averages.
Photo credit: Pat Guinan, climatologist for University of Missouri Extension Commercial Agriculture Program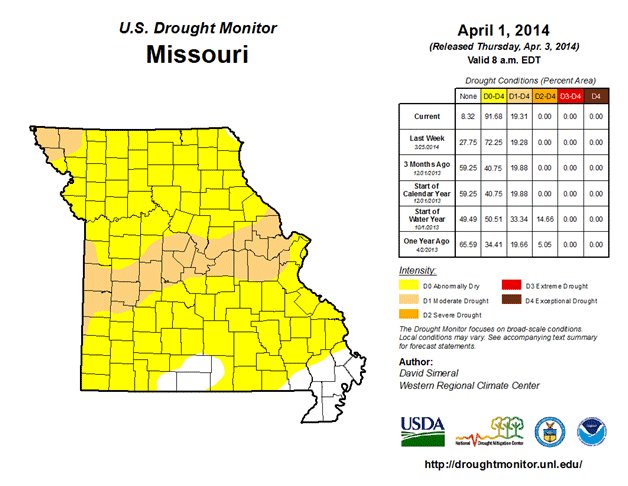 Missouri is experiencing moderate drought.
Photo credit: U.S. Department of Agriculture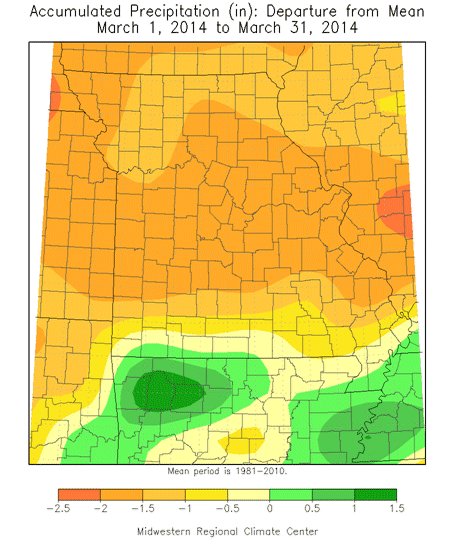 Missouri's accumulated precipitation for March 2014
Photo credit: Pat Guinan, climatologist for University of Missouri Extension Commercial Agriculture Program
---
Source: Pat Guinan, 573-882-5908